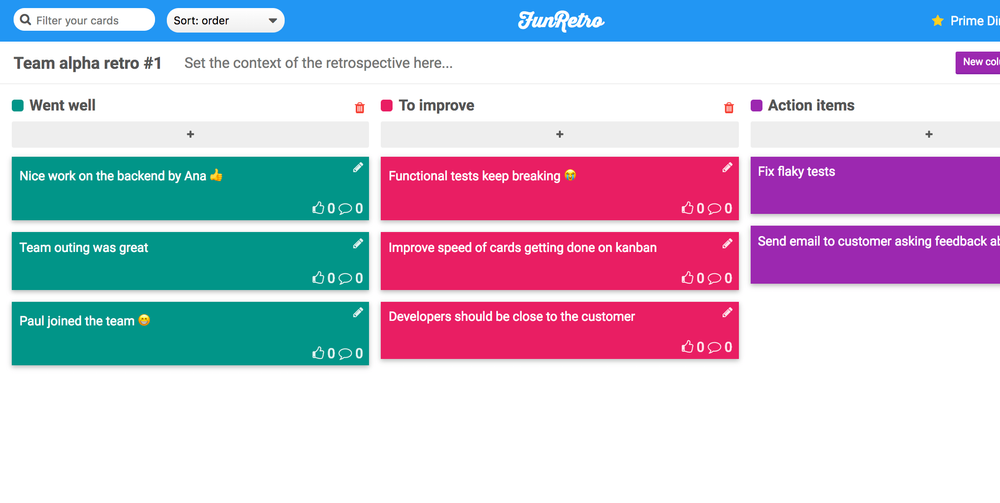 Hello everyone,
This is the first EasyRetro update post. I'm very pleased to share all the new features that were implemented in the last couple of weeks.
Almost all features were based on feedback from our users, so please share what you think about the product, it's very important for us.
Reset Password
This is a helpful feature that we didn't have yet.
Google Login
Now it's easier to log into EasyRetro using your Google login.
User Photo
If you logged using Google you can now see your user photo.
Unlimited Columns
Now you are able to create more than 6 columns :D.
Change Column Color
Now you are able to change the column color.
Change Team Name
Now you are able to change the team name.
Add member to an existing team
Now you are able to add members to an existing team.
Remove Team Member
Now you are able to remove a member from a team.
30 day trial without credit card
This is big news, now you can access the 30 day trial without having to provide a credit card number. Also we added a trial counter on the top of the screen.
User permissions
New an user can only edit and delete cards that he/she created. Now only the owner of a board can edit the columns (add/remove columns, rename it, change color). Also only the owner can view the admin settings (vote, card and delete settings). An archived board now cannot be edit at all.
New subscription tiers
We updated our subscription tiers. This was done because we believe the previous tiers were not sustainable to our business and also to give you more freedom to choose and clarity.
Now it's clearer which features each tier has and you can also pay per year.
All the existing paid users will not be affected by this change.
Other improvements worth mentioning
When someone is added to a team, we are now sending emails. New homepage design. Lot's of layout improvements and bug fixes. Check this changes and more at easyretro.io.