How To Mute Microsoft Teams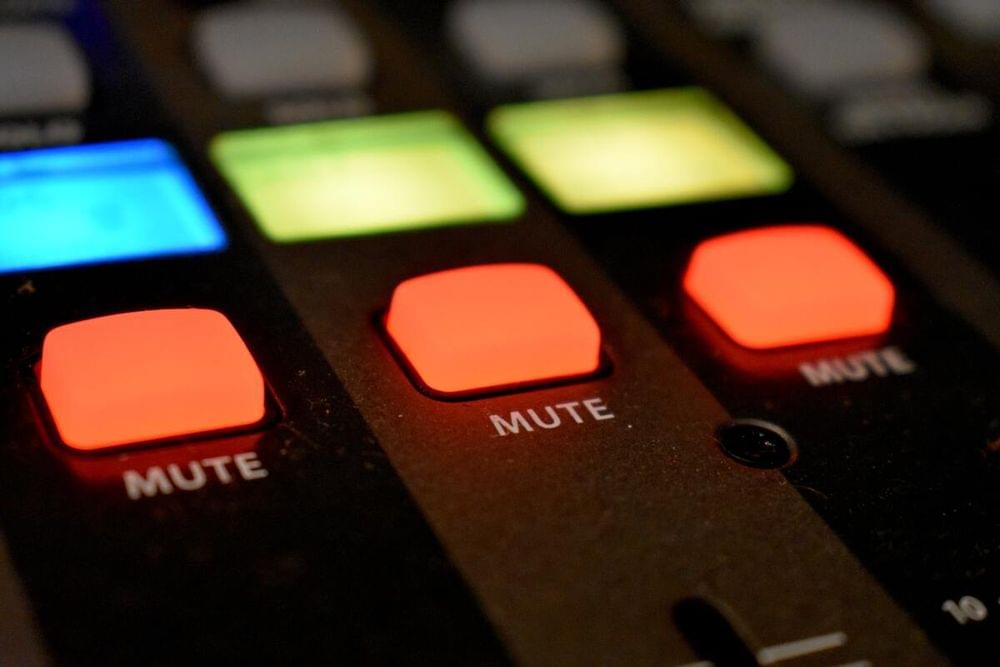 An estimated 270 million people across the world use Microsoft Teams every month. Its core function is to provide a messaging app for your organization and enable real-time collaboration while serving as a workspace for meetings.
However, while communication is one of its most important functions, knowing how to mute Microsoft Teams is useful to prevent any unwanted noise from being transmitted into the meeting.
Similarly, you may want to unmute your mic to participate in the meeting, or mute or unmute participants for any number of reasons.
Note that Muting does not only pertain to sound. You can also mute and unmute chats and notifications.
Table of content
How To Mute And Unmute Yourself In A Microsoft Teams Meeting
Being able to mute yourself during a meeting ensures your privacy isn't compromised. It can even help you manage the flow of the meeting, ensuring you don't talk over or interrupt speakers with unnecessary utterances such as 'agreed' or 'mmm'.
The mute icon may be in different places, depending on whether you're on a Mac, Desktop, or mobile. In any case, it's represented by a little icon that looks like a microphone.
Interacting with it (muting or unmuting) may be via a toggle, by clicking on the icon itself and seeing a crossbar appear (meaning you're muted), or by removing the crossbar.
When your microphone is set to mute, other meeting participants won't be able to hear you, but you will still be able to hear them.
Note, the main roles of a Teams meeting are Organizer, Presenter, and Attendee. Only the Organizer and the Presenter can mute other participants. If you're organizing a meeting and want to allow an attendee to be able to mute others, you have to assign the role of Presenter to that person.
Muting Before A Meeting
Before joining a meeting, you will be able to toggle your camera and microphone. To mute yourself, simply toggle the microphone to 'off' before clicking Join now.
When off, the microphone symbol will have a strike through it.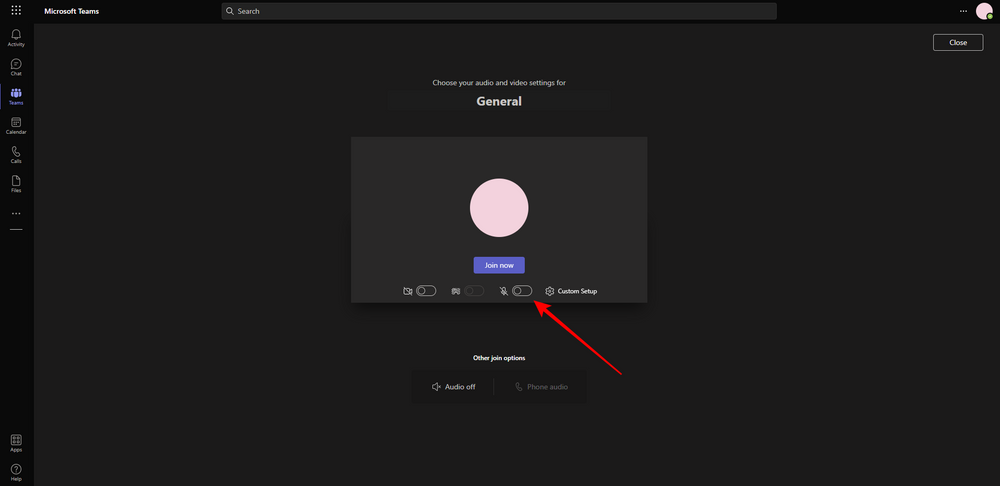 Muting And Unmuting During A Meeting
To turn your microphone on while in a meeting, select the microphone icon in the meetings control tray.
To mute yourself during the meeting, tap the microphone icon and you'll see a strike through it - meaning nobody can hear you.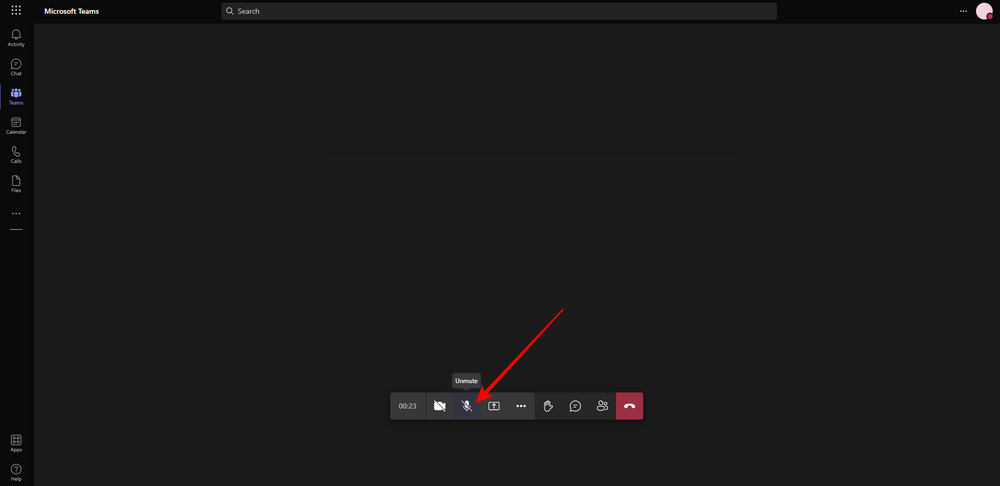 Using A Keyboard Shortcut To Mute
When using the Microsoft Teams desktop app, you may want to stay muted to limit noise during a meeting, yet be able to quickly respond when called upon.
To cater for this, Windows 11 includes a new keyboard function where you can quickly unmute, then mute your device's microphone using your keyboard.
Here is the step-by-step process for using a keyboard shortcut to mute or unmute during a meeting:
Go to Settings > Privacy and ensure the Keyboard Shortcut to Unmute is toggled on.
To quickly unmute yourself, press and hold down the keys Ctrl+Spacebar (on Windows) and Option+Spacebar (on Mac). Note the alert saying you're temporarily unmuted.
Once you're ready to be muted again, simply release the keys. How To Mute And Unmute Participants In Microsoft Teams To avoid audio distractions and random noise during an upcoming meeting, the meeting organizer can disable individual or all attendee microphones, thereby preventing them from using their microphones during the meeting.
This means attendees will notice that their microphone is turned off when they join the meeting.
Here is the step-by-step process for muting or unmuting participants during a meeting on Windows:
During the meeting, click on the participants button on your control panel.

Next, click on the three dots at the top right-hand corner of the participants panel and select Manage permissions. This will open your Meeting options.

Here you have the option to 'allow mic for attendees'. Toggle to No.
Note, in meetings such as these where attendees can't unmute themselves, the organizer can allow participants to temporarily unmute themselves if they want to say something.
They can signal this by 'raising their hand' (clicking the raised hand icon visible to all meeting participants).

Mute An Individual During A Meeting
During the meeting, click Show participants. This will bring up a sidebar on the right-hand side of the screen with all the participants.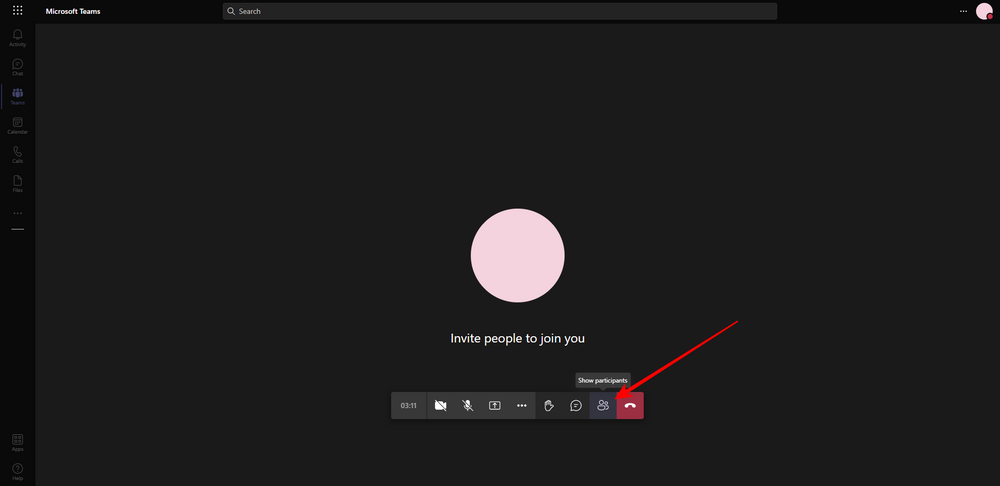 Hover over the participant you want to mute and click the three dots.

Select Mute participant.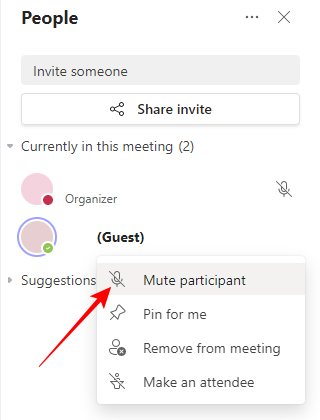 Turn On Live Captions In Teams
Microsoft Speech Services can transcribe spoken language during Teams meetings by displaying live captions.
Live captions enable users who are unable to hear the speech to participate more fully in Teams meetings and calls. Members see what's being said and who's saying it.
Here is the step-by-step process for turning on live captions during a meeting:
Go to your meeting control panel and select the More actions ellipse (…)

Select the option to turn on Live captions.

To stop using live captions, select More actions in the meeting controls again.
Click to turn off live captions.
During the meeting, live captions will be shown towards the bottom of the call screen and will only be visible to those who turned live captions on.
Can You Mute A Microsoft Teams Chat?
It can be quite annoying when you are presenting or on an important call but the chat notification sound keeps interrupting every time someone texts on the app. In this case, you would want to turn off notifications from a chat conversation.
Here is the step-by-step process for muting or unmuting a Microsoft Teams chat:
Go to the Chat application in Microsoft Teams.

Click on the three dots (…) for More Options.

Select Mute.

To restore notifications or respond to someone in the chat who mentioned you, select Unmute by following the same steps.
On mobile, swipe left on Chat and then tap Mute. If you change your mind, just tap it again to undo it.
Conclusion
Once you know how to mute Microsoft Teams - and how to unmute - you are on your way to a more successful and managed Teams meeting.
Being able to reduce the noise created by multiple attendees, and amplify the voice of the meeting presenters, is essential to control the flow and productivity of all virtual meetings.