Top 10 agile tools for keeping your team productive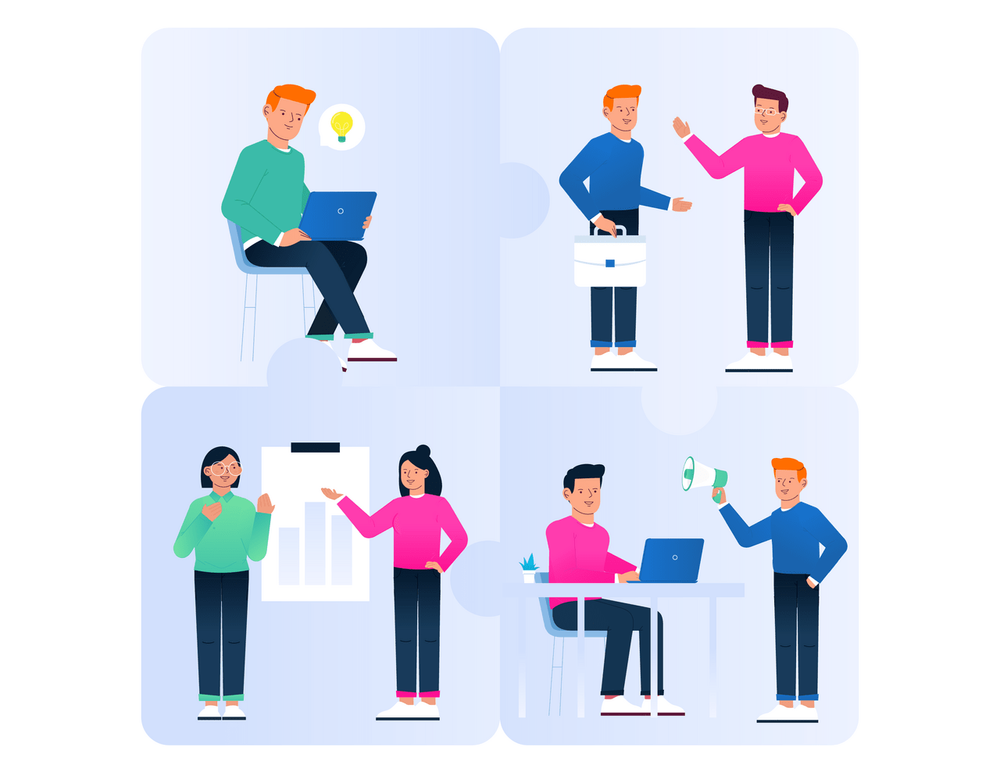 Smart productivity is the key to team success. So the Agile methodology was designed to make teams more effective — to work smarter, not harder.
As you might imagine, Agile teams need Agile tools to do their best work. And there are plenty of brilliant Agile tools that help ease the pain points that arise with even the best, most productive teams.
But these Agile tools can help any team work better together — you don't need to follow the Agile methodology to benefit. Productivity is a vital part of any team, Agile or not, and the best Agile tools can make working processes easier and more effective for teams of every stripe.
That's why we've compiled this list of the 10 best Agile tools available today, looking at what they do, how they help teams be more productive, and what they require as investment.
Table of contents
3 of the best retrospective tools
Retrospectives are a vital part of Agile working. Held at the end of a sprint, a retrospective is an opportunity to analyze how the sprint went, and how the project is going. It provides a chance to optimize future sprints and improve the project's progress as time goes on.
Retrospective tools help create a structured framework; allowing these meetings to be carried out more effectively, and for the lessons learned to be applied with the most impact possible.
Improve your team with fun sprint retrospectives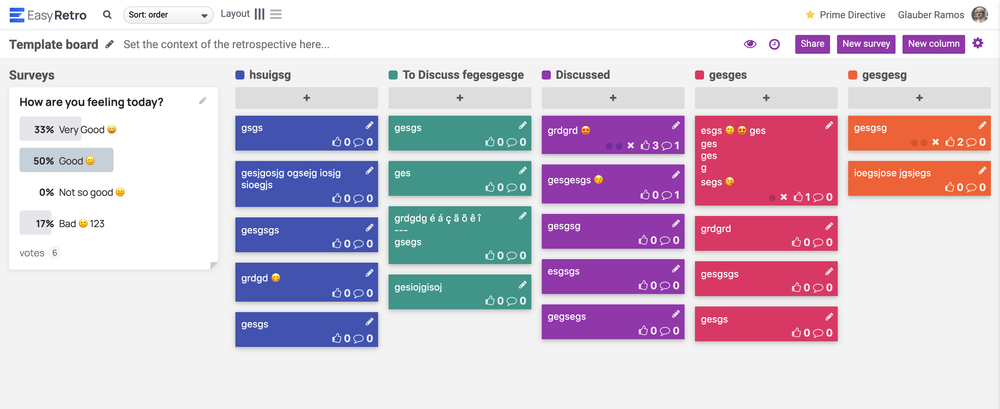 We're not trying to show off, but we are pretty proud of our product — EasyRetro offers an exceptional tool for teams looking to optimize the effectiveness of their sprints. The simple, intuitive, and beautiful tool is incredibly easy to use, and particularly handy when dealing with remote or dispersed teams.
EasyRetro also focuses on team morale, looking to improve collaboration and productivity by creating a fun environment to work and feedback in. Dashboards are easy to set up, data from the retrospectives can be exported at the click of a button, and privacy and honesty is guaranteed with a secret ballot option — something that's vital in order to ensure a productive meeting.
Facilitators are able to stay on top of collaboration channels and brainstorming sessions. And they can benefit from a bird's eye view of multiple iterations; empowering them with a more holistic outlook of overall progress.
EasyRetro's 'Free' plan makes it one of the best free Agile tools around, and the paid-for options start at $25 per month. Click here to learn more about using EasyRetro in your retrospectives.
Online Agile Retrospective Tool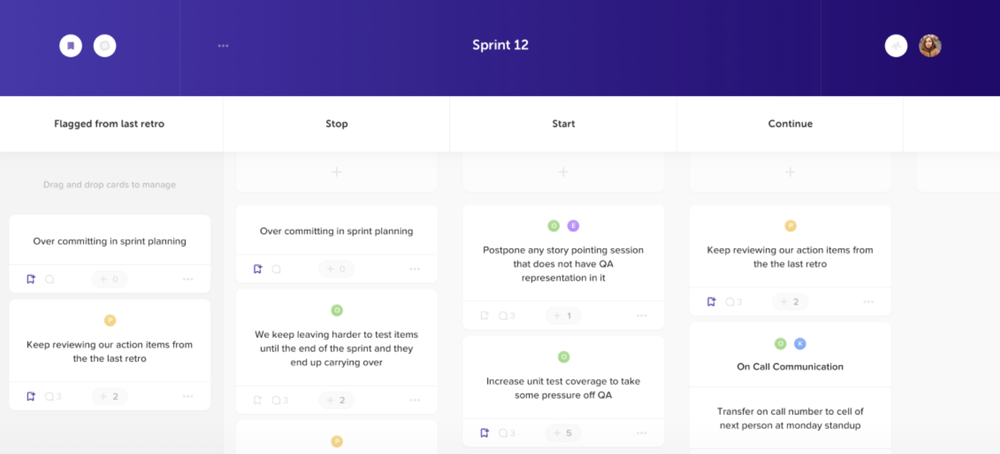 ScatterSpoke is a great option for larger teams, or teams that need to scale up their retrospectives regularly. Designed to handle bigger groups without reducing the facilitators' oversight, it also works well to collate the work of multiple teams within a single organization.
It is particularly helpful for teams new to Agile and to retrospectives, and makes it incredibly easy for anyone to act as a facilitator. That's a huge bonus when keeping retrospectives objective.
ScatterSpoke also creates simple, actionable plans to convert ideas into processes; preventing valuable retrospective output from going to waste.
Pricing starts at $35 per month for up to 15 team members
Retrospectives Made Easy for Scrum and Agile Teams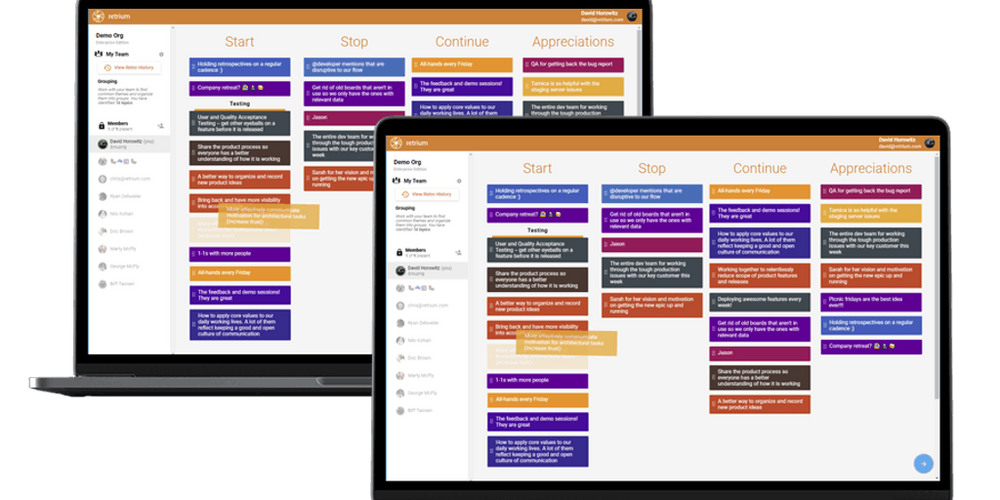 Retrium is designed to pick up on those annoying, unexpected issues that can disrupt a team's workflow; helping troubleshoot little issues, before they turn into big problems.
With Retrium, team members post private feedback on the strengths and weaknesses of the last round of work. They can vote for items, give priority to important conversations, and track progress based on agreed plans, too. The platform offers some excellent solutions for shy participants, with non-intrusive methods designed to encourage contributions. And everything from the retrospective meeting can be neaty transferred to an action plan, ready for the next sprint.
Retrium prices start at $29 per month and per team.
4 of the best project management tools
Project management tools form the skeleton of the Agile methodology, but they're also an essential part of any high-performing team. Choosing the right project management tool for your organization — and for the job at hand — is incredibly important, and even more so nowadays when more and more teams are working remotely.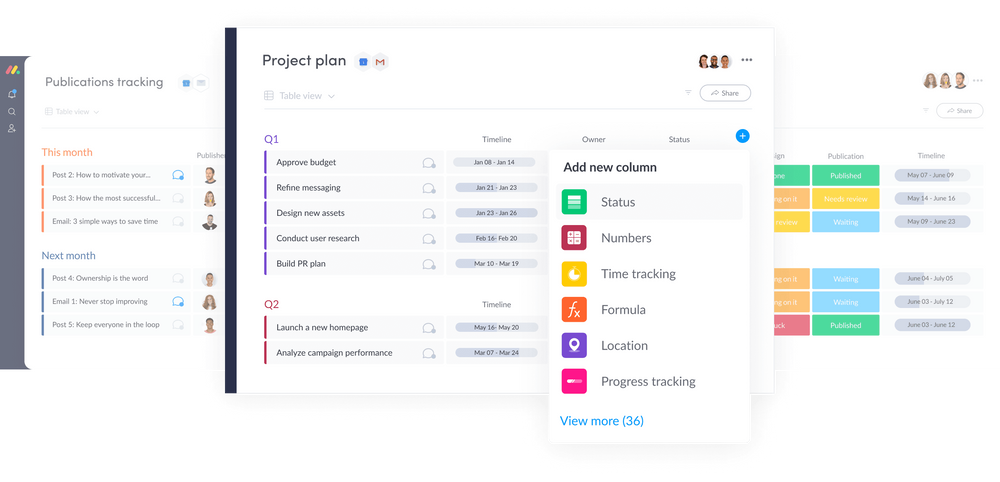 For Scrum teams and projects, Monday.com is one of the best Agile tools around. The platform makes it easy to create clear, understandable roadmaps with bespoke notifications and solid time tracking functionality. The interface is simple and easy to use, making backlogs and sprint planning a breeze, and it's fully customizable to your team's needs and preferences.
Monday.com's reporting and charts allow managers to keep track of progress and effort, and there are a number of functions to facilitate quick, insightful workflow analysis.
Best of all, Monday allows a huge range of integrations, with everything from Slack, Jira, and GitHub to Dropbox, Zapier, and the full range of Google apps included.
Pricing starts at $17 per month for two users.
For the Kanban fans among us, Trello could be the answer. It's simple to use and immensely functional, with its drag-and-drop, one-click interface. Each task is assigned a board, managed from the dashboard, and can be moved around incredibly easily to reschedule, edit, or re-prioritize as needed.
Trello is best for simple projects (it doesn't have as much to offer analytically as Monday.com), and relies on external integrations for more sophisticated functionality. But as for day-to-day task management and scheduling it can be a lifesaver — particularly for teams just getting started with Agile or Kanban.
Trello offers a free version for small teams, and the paid version starts at $9.99 per user for larger teams.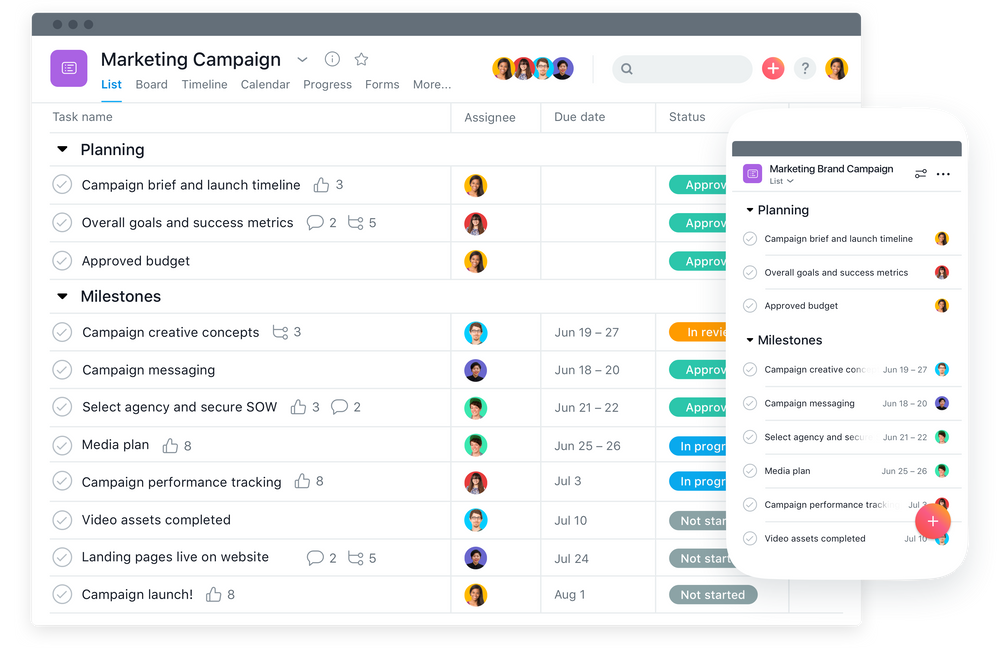 Asana is one of the world's most popular project management tools, used by Agile and non-Agile teams alike. Why? Because it's a powerfully simple way of improving productivity in any organization.
Asana's standout feature is its user interface. Fully customizable, you can essentially design it to fit your team's specific requirements. Tasks and lists can be shifted around the dashboard without a problem, and the running activity feed keeps managers updated on progress. The project timeline feature is also a great addition from this point of view, offering a Gantt chart-style overview of progress.
Asana offers a basic free version, and the paid version starts at $9.99 per month per user.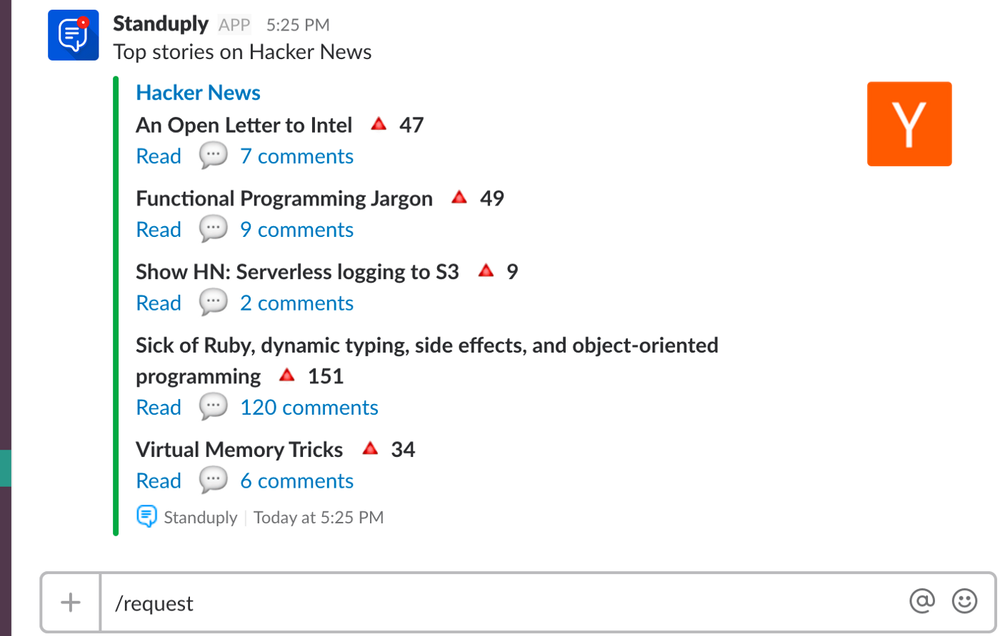 Standuply is almost more of a project management assistant than a project management tool. It automates a wide range of meetings, from status meetings to retrospectives and 360 reviews. It also connects your team with experts in the field to provide knowledge and insight. In this way, Standuply combines mentorship with vastly improved communication through process automation, and is a great addition to any team.
Pricing offers a free basic plan for three users, and the paid version starts at $5 per month.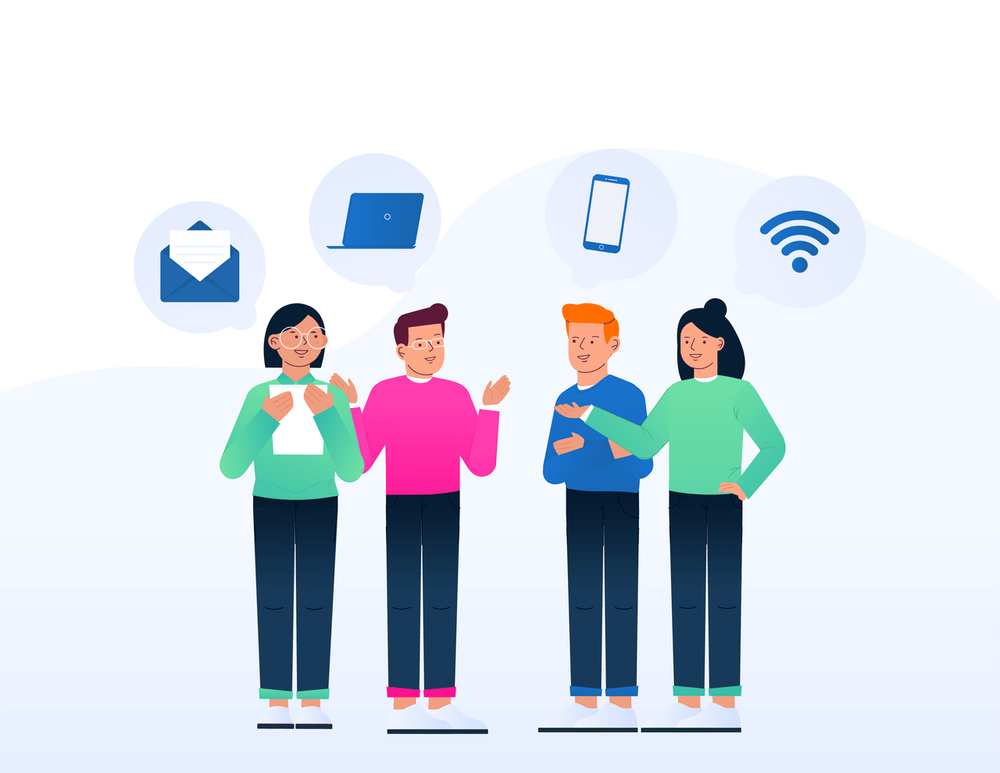 3 of the best collaboration tools
Collaboration and communication are essential for great teams to thrive, and collaboration tools are a great way to ensure that teams are working together in the most effective and productive ways.
The following 3 are our go-to collaboration platforms…
Miro works as an online, collaborative whiteboard, allowing teams to brainstorm, share ideas, and collaborate in real time from wherever they are in the world. Miro's canvas is infinitely zoomable, allowing you to scale up and down depending on the complexity of the project — seeing the big picture and the small details, all in one space.
It's brilliant for meetings and workshops, strategy, research and design, and creating Agile workflows. In short, it's a wonderful way to bring teams together.
Miro starts as a free Agile tool, and offers a paid version from $8 per month per member for larger teams.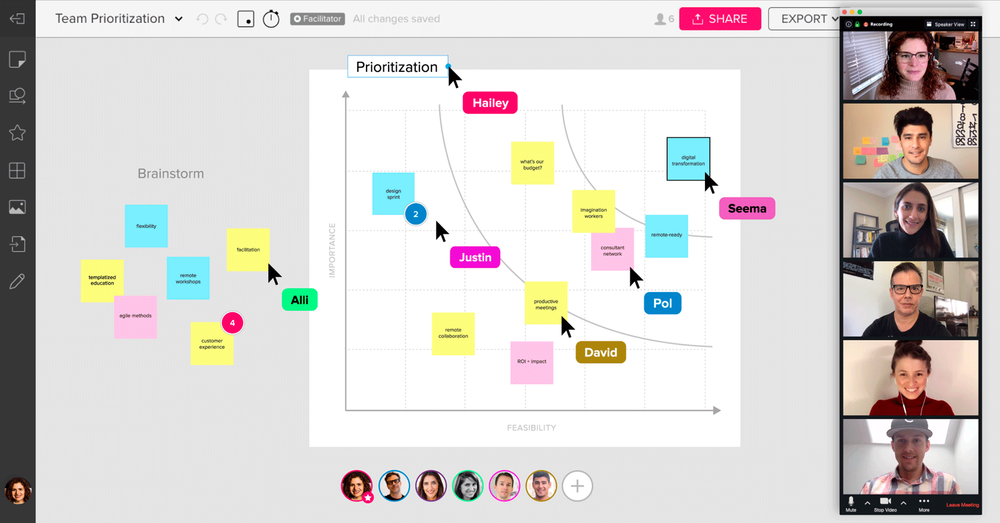 Mural offers a digital workspace for visual collaboration, allowing teams to think visually and come together to solve problems. You can use it as a whiteboard, canvas, repository for digital sticky notes, or as a more structured planning tool. Shapes and connectors make it easy to link thoughts, ideas, and projects, while freehand drawing allows for impressive flexibility and creativity if needed.
Perfect for the creative types out there!
Pricing starts at $12 per member per month.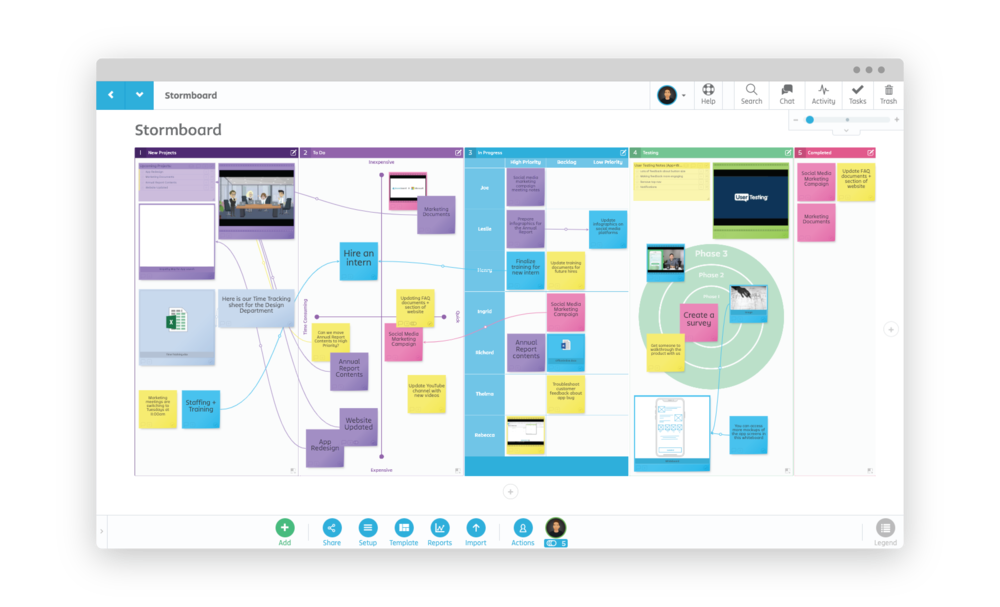 StormBoard's shared workspace helps teams to define objectives, capture ideas, generate discussion, and develop innovative solutions. Better still, while you're busy with your blue-sky thinking, StormBoard provides the necessary frameworks to capture, organize, and prioritize your thoughts for maximum ease and application.
StormBoard syncs effortlessly to Microsoft Word, Powerpoint and Excel to create meeting records in whatever format you need, and makes it easy to build plans and strategies off the back of each meeting.
Teams of five or less can use StormBoard for free, and for larger teams pricing starts at $10 per user per month.
Take your pick of the best Agile tools for retrospectives, project management, and collaboration
As they say, "a man (or woman) is only as good as his tools". But now you've got everything you need to fully embrace Agile ways of working and succeed as a highly-functioning team.
Take a read of the rest of EasyRetro's blog, for more Agile tips and tricks.
Also, if you are looking for a great timer tool to improve your personal productivity, check out our Pomodoro Timer Online.