20 Retrospective Tools To Try in 2023
Whether in person or remote, sprint retrospectives help improve your product development process by reviewing your team's synergy levels during the sprint.
These 30-minute to three-hour-long sessions serve as an opportunity for the scrum team to carefully inspect itself and craft a plan to enhance their collaboration and efficiency in the next sprint.
So a well-carried-out sprint retrospective empowers your product team to brainstorm practicable solutions to the challenges that arise during the development process.
But to facilitate a fruitful and engaging retrospective that actually improves your scrum team's operations, you need to pick the right tool for the job (especially when your team is distributed or hybrid).
Table of Contents
20 Retrospective Tools To Try in 2023
In this post, we'll share the top 20 handpicked retrospective tools — with their brief overview, pricing plans, and compelling features — so you can make an informed decision in accordance with your team's unique requirements.
Retrospective tool #1: EasyRetro
What EasyRetro's retrospective board looks like: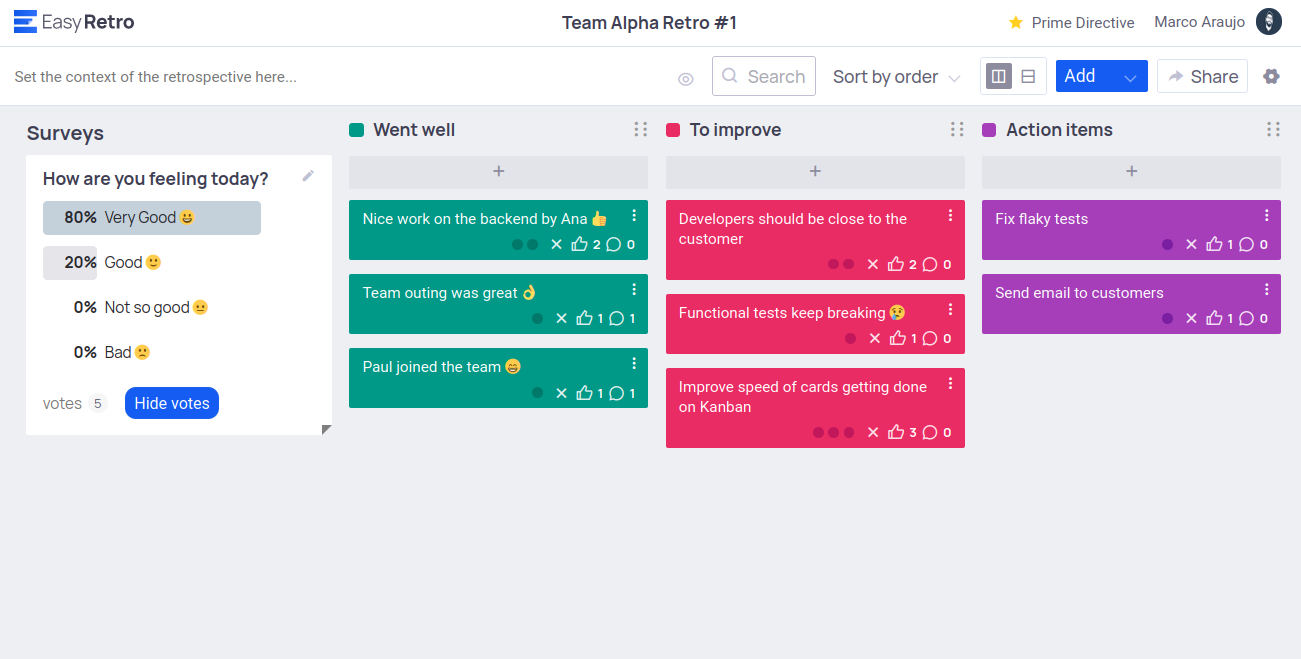 By far the most easy-to-use and customizable retrospective board available today, EasyRetro lets you instantly create private and public boards with more than 100 beautiful templates. You can organize your past retros in a dashboard, sort and filter cards, and integrate the tool with Microsoft Teams, Confluence, Jira and your team's Slack workspace.
Members can add comments to cards, vote on them, create action items, choose between various retrospective ideas, and even run surveys during retrospectives.
It also lets you export your boards in various formats such as PDF, CSV, PNG, Excel and DOCX.
Website: easyretro.io
Pricing:
EasyRetro is one of the most affordable retrospective tools at just $25 per month per team (unlimited members). What's more, it's free if you only wish to create public boards!
Why choose it:
The sheer level of customization you can do to your retrospective boards, the super-intuitive interface, and the ability to invite unlimited team members to join your collaborative board.
Retrospective tool #2: Retrium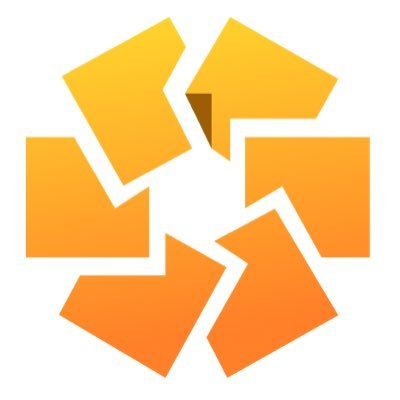 What Retrium's retrospective board looks like: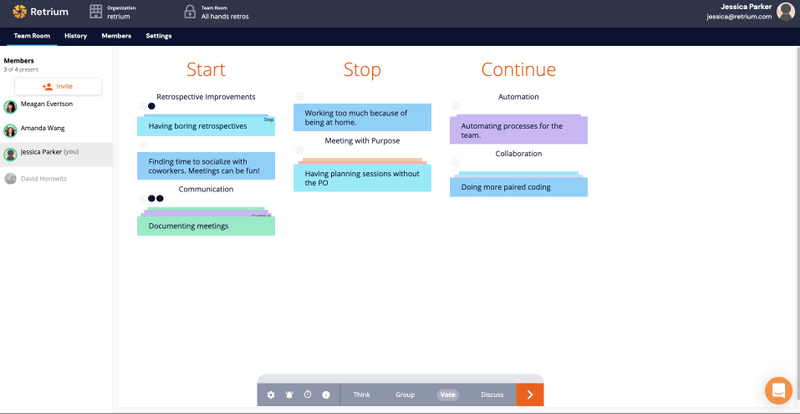 A retrospective tool more suited to enterprises, Retrium allows your Scrum Master to host retrospectives using a variety of techniques, such as:
You get plenty of scrum and agile team templates that help with different purposes such as goal evaluation, team morale measurement, etc. It lets you generate action plans and walks your team through an engaging retrospective, thus leading to effective conversations in the session.
Retrium integrates with your Jira workflow so your team can set due dates and ensure that the ideas and action items discussed in the retrospective are put into practice.
Website: www.retrium.com
Pricing:
The Team plan costs $39 per team room per month for unlimited retrospectives and users. The Business plan costs $59 per team room per month and includes more goodies such as SSO implementation, priority support, and an hour-long training session.
Why choose it:
Retrium encourages your team to share feedback openly in the form of anonymous comments, ensuring psychological safety. Moreover, it makes it easy to review previous meeting details and completed retrospectives.
Retrospective tool #3: TeamRetro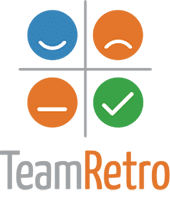 What TeamRetro's retrospective board looks like:

Another one tailored to remote enterprise teams, TeamRetro is a user-friendly online retrospective tool that lets you run retros with guided facilitation techniques. The Scrum Master can use private aliases to avoid groupthink and easily keep things on track with a timer.
It is fully customizable, cross-device-friendly, and plays well with your existing tech stacks such as Microsoft Teams, Atlassian Jira Cloud, Jira Server, Asana, Basecamp, Trello, and GitHub.
TeamRetro checks all the boxes for enterprise-grade security with features such as 256-bit SSL encryption, SOC2-certified infrastructure, 99.9% uptime SLA, role-based access control, and SSO via SAM. You can access reporting and health data programmatically via its Enterprise API.
Website: www.teamretro.com
Pricing:
The price starts at $25 per month for one team to $90 per month for six teams. The Enterprise plan is suitable for organizations with 15+ teams that require SSO, SLAs, security reviews, priority support, etc. You can try it free for 30 days.
Why choose it:
The Team Radars and Health Checks is its standout feature that gives insight into everyone's performance and morale via self-reported health scores. Also, its dashboards let you track action plan delivery, meeting cadence, and team sentiment over time with downloadable reports.
Retrospective tool #4: Parabol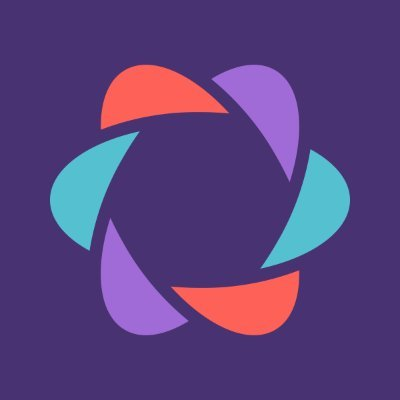 What Parabol's retrospective board looks like: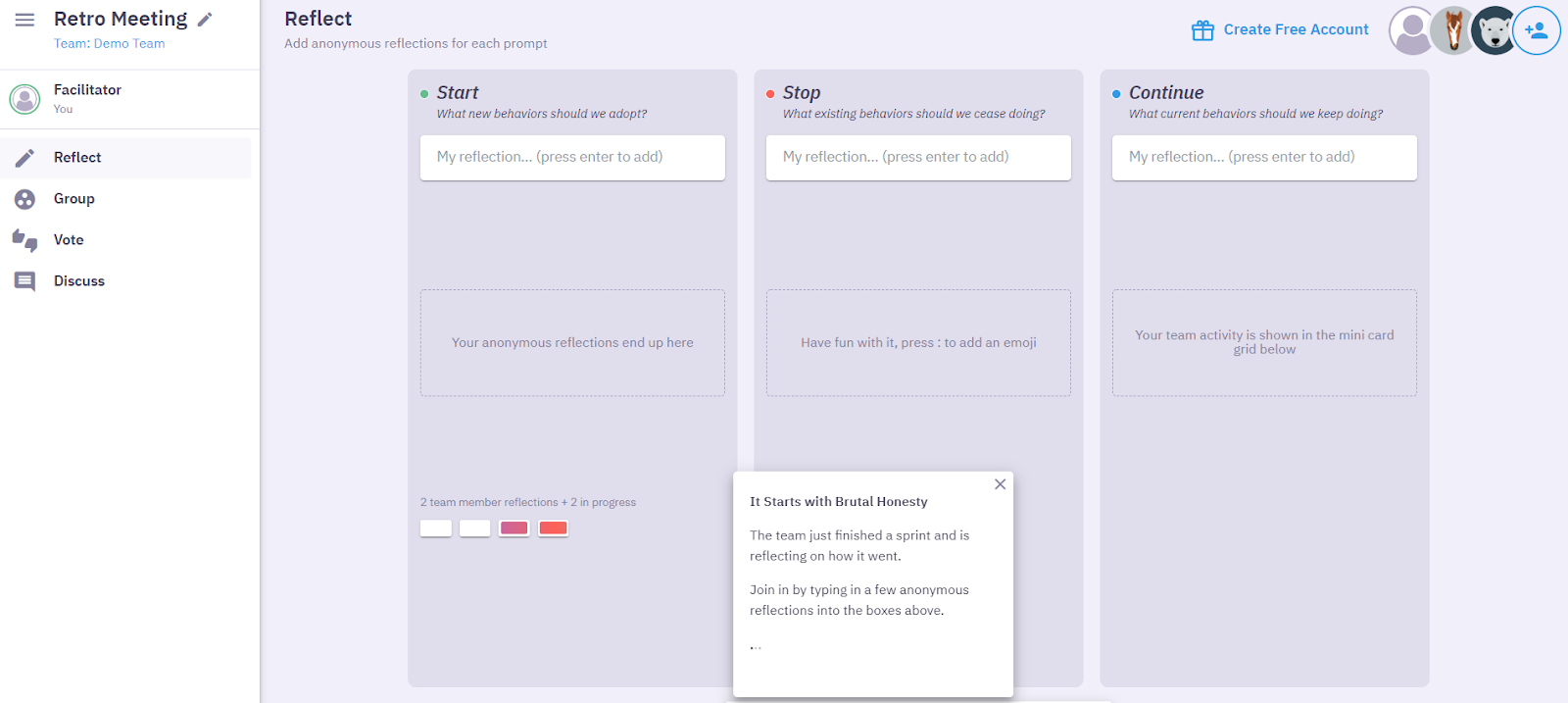 Get your team talking and improving at the end of each sprint with Parabol, a tool to run more effective agile meetings.
You can easily check in with your teammates to uncover issues and review accomplishments. Other key features include multiplayer drag-and-drop cards, live task editing, a timer, dynamic agenda items, emoji reactions, discussion threads, 40+ popular retrospective formats, and 200+ built-in icebreaker questions.
Parabol automatically generates a meeting summary at the end of every retro and delivers it to the attendees via email or Slack, making it easy for everyone to review the main points and work on the next steps. It integrates with your usual tools such as Atlassian Jira, GitHub, and Slack.
It also offers enterprise-level security for larger organizations, similar to TeamRetro.
Website: www.parabol.co
Pricing:
Free for up to 2 teams. The Pro plan costs $6 per active user per month and includes unlimited teams, priority support, and enhanced security.
Why choose it:
Parabol's Sprint Poker allows you to estimate effort using an interactive card deck — sync issues from your backlog and collaborate on project estimation with a fun digital deck. Also, its anonymous voting feature prevents anchoring and bias.
Retrospective tool #5: Reetro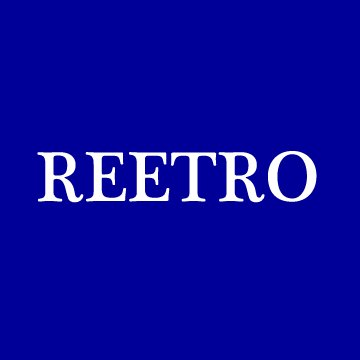 What Reetro's retrospective board looks like:
Reetro is a highly versatile and easy-to-use online retrospective tool for agile teams. It nails all the basic features you'd want, such as:
A fully customizable public board or private retrospective boards
User role-setting
Swiss timer to timebox your retros
Votes, comments, and action items
Anonymous feedback collection
Action tracker to manage action items
Email summaries
Get insights into your team's behavior with periodic team health checks, along with a happiness index.
It plugs into your existing stack (Jira, Trello, Confluence, Azure, and Slack) and even offers enterprise-level features like SSO, 2FA, 99.9% uptime, and role-based access control — for free.
Website: reetro.io
Pricing:
As incredible as it may sound, this online retro tool is 100% free — all features, any team size!
Why choose it:
Reetro has nearly every feature you'll ever need as a Scrum Master, and it's completely free.
Retrospective tool #6: Metro Retro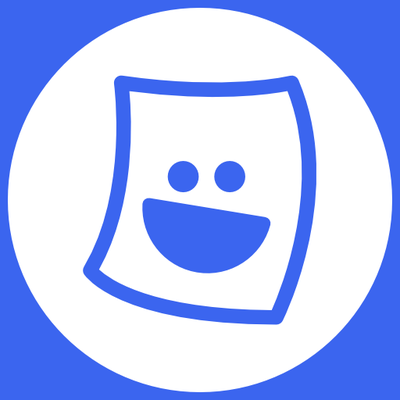 What Metro Retro's retrospective board looks like: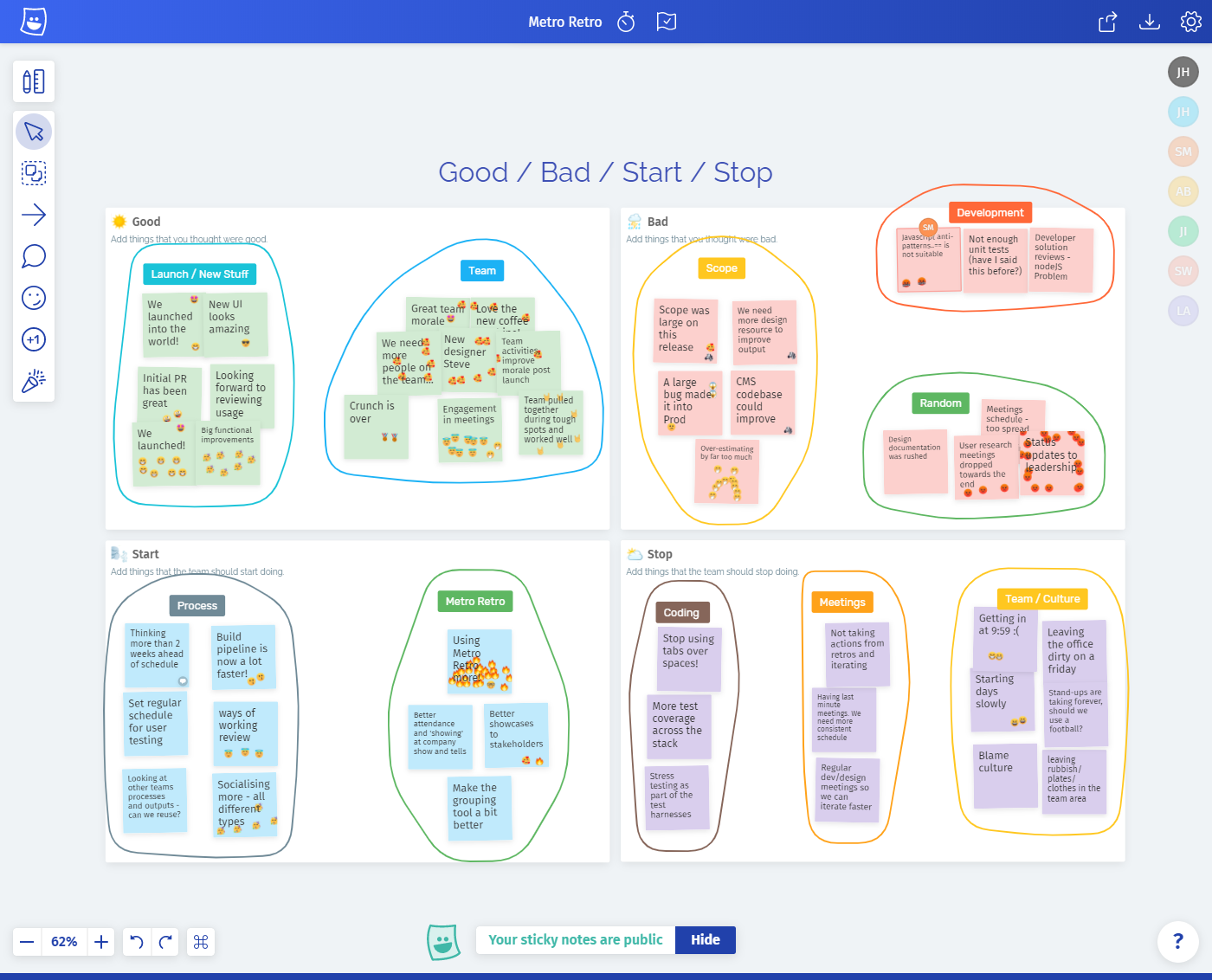 Metro Retro is an online retrospective whiteboard that's great for real-time collaboration with remote or co-located teams. Here are a few cool things you can do in Metro Retro:
Create sticky notes in real-time with your team
Pinpoint themes and group stickies together with the Group Tool
Show your feelings using emojis with the Reaction Tool
Vote on stickies or groups with a voting round
The tool packs a good collection of illustrated templates (for icebreakers, strategy, etc.) to help you run engaging and productive retrospectives.
Website: metroretro.io
Pricing:
The free plan lets you create up to 3000 board objects and use the template library. The Team plan costs $6 per team member per month, allowing your team to create unlimited objects, invite external guests, have priority support, set access and permission controls, and more. There's also an enterprise plan (contact sales for quote) for large-scale collaboration.
Why choose it:
A neat whiteboard format to host engaging retrospectives. The ability to vote on sticky notes with smileys and celebrate with a confetti cannon makes it a fun little tool.
Retrospective tool #7: ScatterSpoke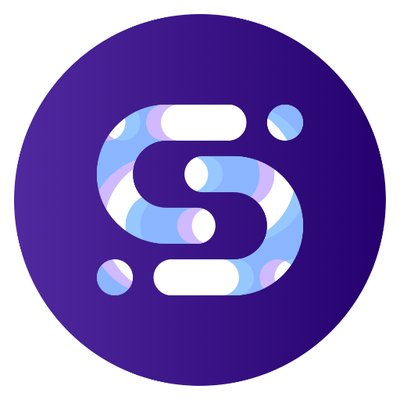 What ScatterSpoke's retrospective board looks like: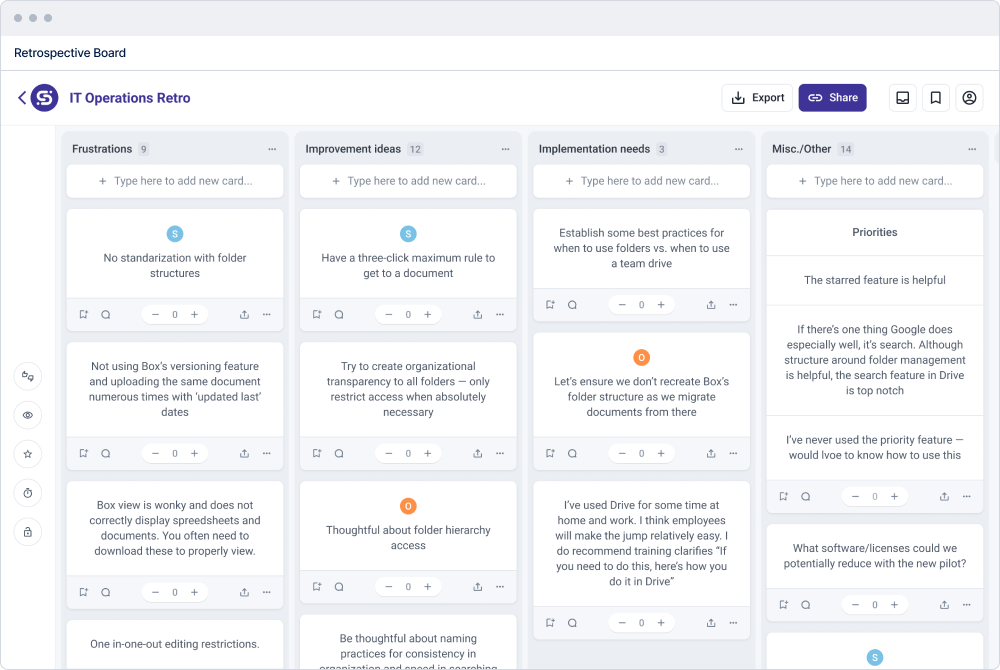 With ScatterSpoke, it's all about leveraging data to improve your development process. It uses AI to derive actionable meaning out of the retro data you're collecting in your meetings, thus giving you insight into team sentiment, bottlenecks, conflicts, and routes to resolution.
Your team can submit, group, and vote on action items, and the Scrum Master can gather anonymous feedback.
ScatterSpoke's Team Pulse Report shares trends, patterns, and opportunities so you can keep everyone on the same page about what to do next. It integrates with Jira, Confluence, Miro, Slack, Microsoft Teams, and Trello.
Website: www.scatterspoke.com
Pricing:
Free for up to 15 team members — unlimited retros and teams. The Business plan costs $6 per user per month and includes SSO with premium support. There's a custom enterprise plan with a personalized onboarding and a dedicated account manager.
Why choose it:
This retro tool enables you to have a data-driven approach to identify the right improvements for your team. It eliminates the need to send employee satisfaction/feedback surveys, and you get valuable employee insights (participation, action items resolved, etc.) with an overall improvement rating in the Team Pulse Report.
Retrospective tool #8: goReflect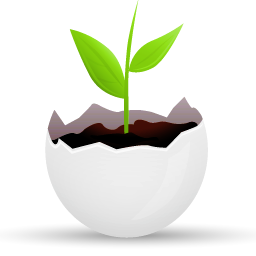 What goReflect's retrospective board looks like: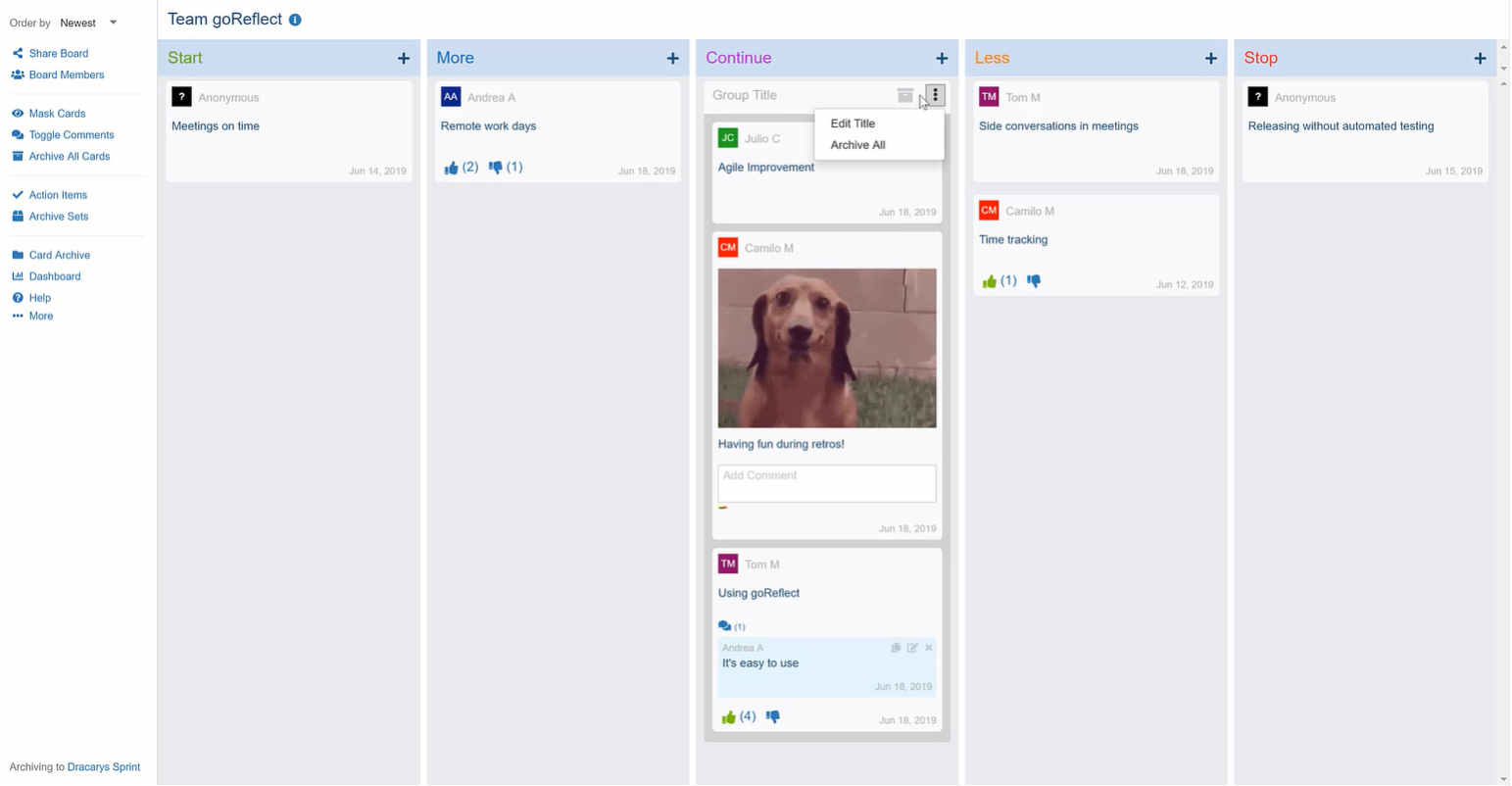 If you want a simple and clean online retrospective tool that keeps the mood light with GIFs, memes, and images, then you're looking at goReflect.
This tool helps your team build an everyday awareness of improvement opportunities by encouraging them to share topics on the retro board anytime. It helps avoid groupthink by masking the cards to hide their content until the retro session. You can set action items and get a dashboard to track the team's commitments and improvements easily.
Website: www.goreflect.com
Pricing:
goReflect is free for 100 days and $2.67 per user per month after that.
Why choose it:
Besides its simplicity, the tool enables teammates to contribute topics before the retro. This means they can take their time to come up with thoughtful ideas before the meeting and can reduce stress in the retrospective. Plus, anonymous posts empower introverts to contribute to the retro.
Retrospective tool #9: Retros.work

What Retros.work's retrospective board looks like: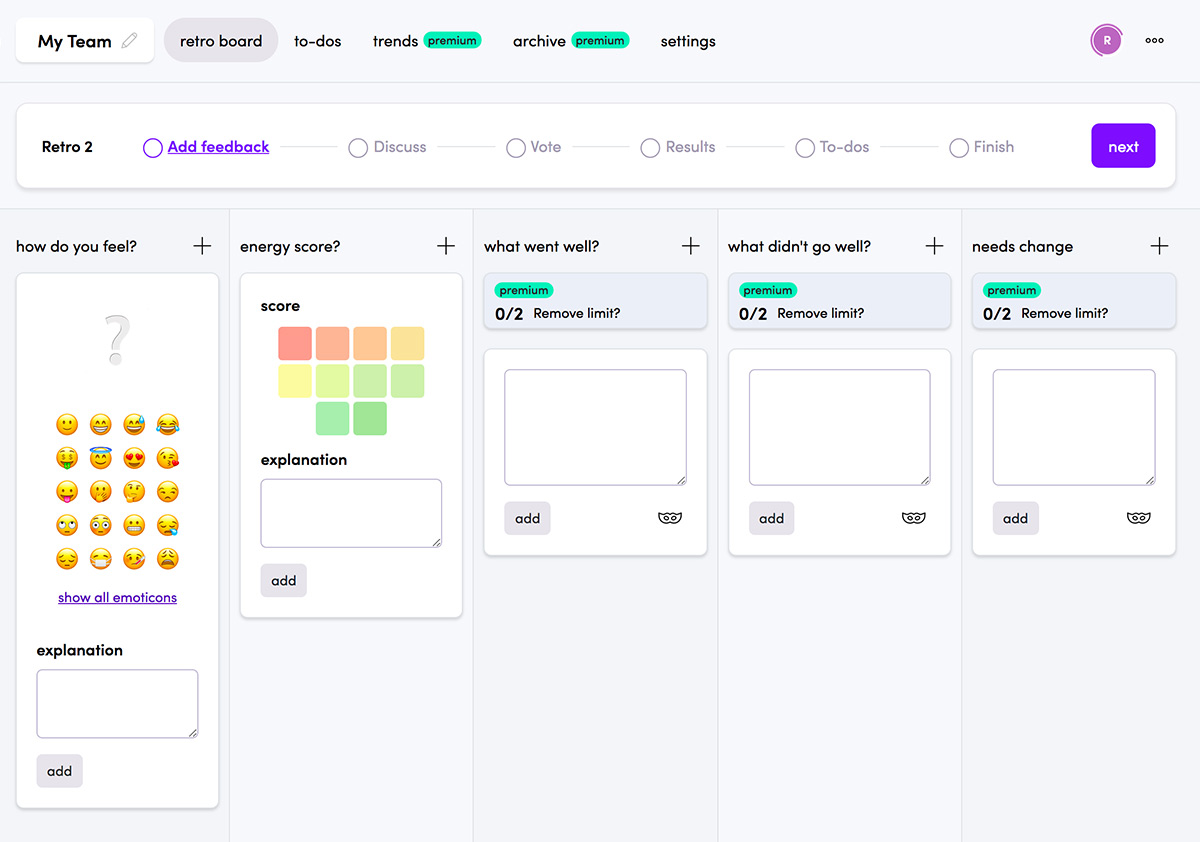 Another online retrospective tool with a simple and neat interface, Retros.work lets you set up an online remote retrospective in a matter of clicks.
Put simply, if you're seeking a straightforward, secure tool to invite your remote team to a retro, create custom question models (such as 4Ls, Plus/Minus, etc.), vote on action items, capture feedback, and analyze trends (mood, energy, etc.), then Retros.work is a good option to consider.
Website: retros.work
Pricing:
With a freemium pricing model, you can try the tool's free version with unlimited retrospectives and users, albeit with limited features. The Premium plan costs €2.69 per month per user and includes custom question models, trends, and archives.
Why choose it:
Retros.work lets you track emotion and energy trends as the sprints go by. Plus, it works well on mobile.
Retrospective tool #10: Neatro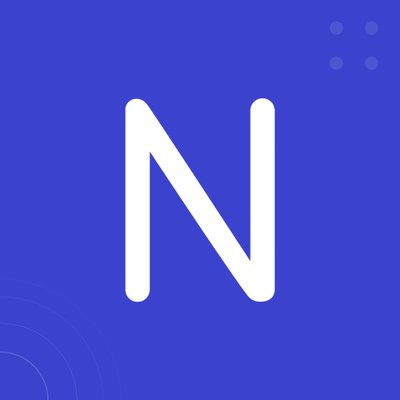 What Neatro's retrospective board looks like: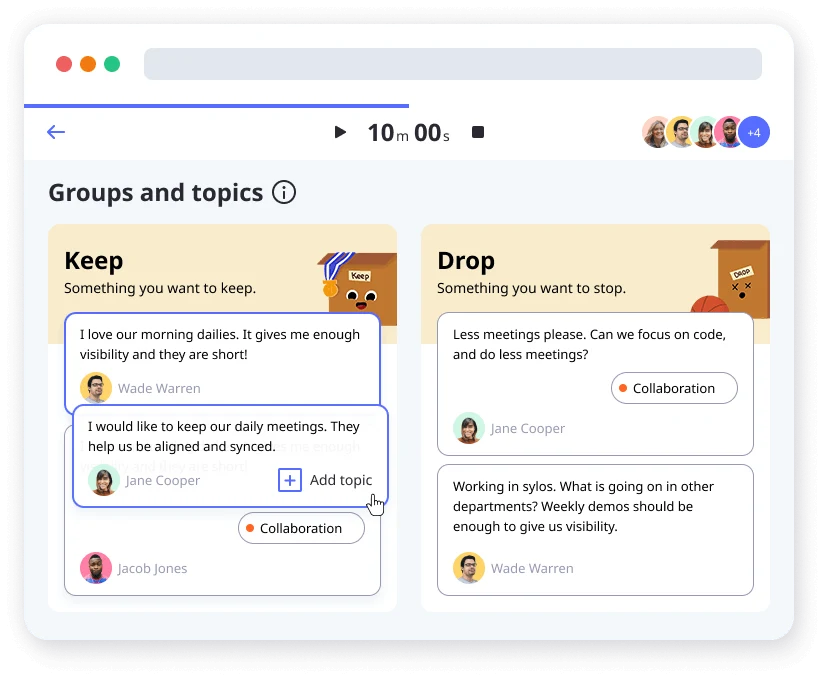 Continuous improvement and growth is the philosophy behind Neatro, a responsive online retrospective tool for distributed agile teams.
This tool puts the fun back in retros with an impressive collection of retrospective templates. It splits your retrospective into four steps — Collect, Group, Vote, and Action Plan — to make your session more efficient, giving your team a clear action plan on how to improve until the next one.
Easily create and assign action items, and export them to Jira, Azure DevOps, Asana, or IceScrum. Add your action plan to the next sprint and keep your teammates accountable for your team's continuous improvement with action item reminders.
Website: www.neatro.io
Pricing:
You can start a 30-day free trial, after which you need to opt for the Premium plan that costs $20 per month per team (it gets discounted as you add more teams). The Enterprise plan is custom-built as per your needs and gets you a dedicated account manager, SSO with SAML, training, and security audits.
Why choose it:
Neatro's team health check feature is neat, letting you gauge your team's strengths, areas of improvement, and how your team feels in terms of the project speed, collaboration, roles, etc. Moreover, it automatically generates reports with valuable insights on action items and their lifecycle, comments organized by votes, and the list of the members who joined a retrospective.
Retrospective tool #11: Geekbot

What Geekbot's retrospective board looks like:
If you're using Slack or Microsoft Teams and want to integrate your retros within your teams' channels, then Geekbot is an app you can consider.
Essentially, it's built to automate standups, surveys, and daily reports right inside your Slack or Teams channel. For each team member, it keeps a log of what's going well, what's not going well, their learnings, and roadblocks. You can easily plan your retros and set automatic reminders for the team.
Geekbot also evaluates engagement, happiness, and productivity levels with its AI language analysis that reveals the thought process behind the responses.
Website: geekbot.com
Pricing:
Geekbot offers a free Start-up plan for up to ten participants. The Standard plan costs just $2.5 per participant per month.
Why choose it:
The blend of standup, surveys, and retros — all within your existing Slack channels. Plus, for developers, Geekbot's public API allows building custom features to create your own workflows.
Retrospective tool #12: Sprintlio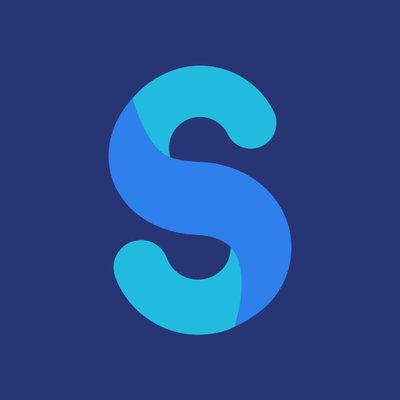 What Sprintlio's retrospective board looks like: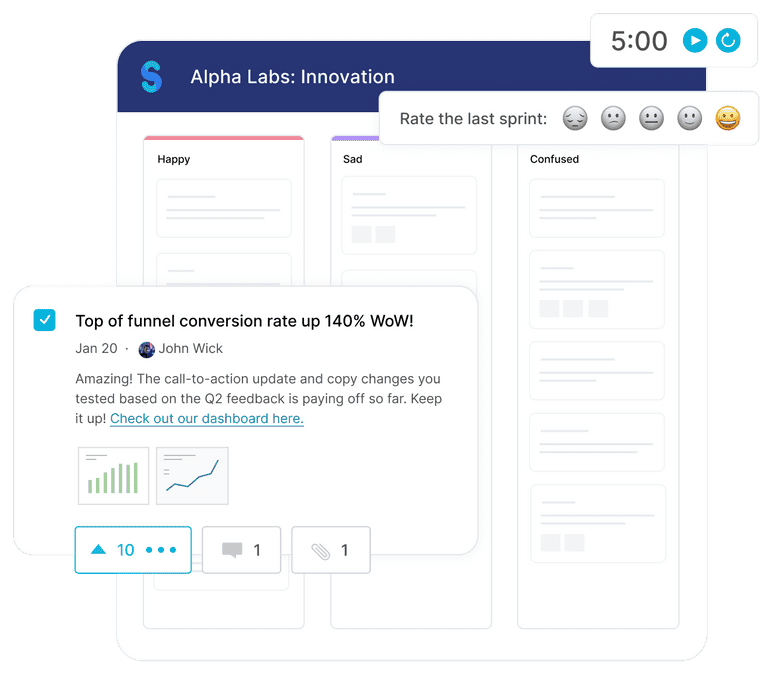 A tool for larger enterprises, Sprintlio is all about making retros more than digital sticky notes — with custom meeting formats, facilitation features (such as grouping, voting, commenting, etc.), and in-depth meeting analytics.
It automates recaps and ensures accountability for your scrum team members. If you're using Jira, your retrospective's action items, owners, and due dates are automatically exported with your backlog. Furthermore, Sprintlio seamlessly syncs with Slack as well.
Website: sprintlio.com
Pricing:
Targeted at bigger companies, the Sprintlio Pro plan costs $50 per month, starting with a 30-day free trial. Along with priority customer support, it includes unlimited users, teams, meetings, action items, history, analytics, integrations, recaps, reminders, storage, and team health.
Why choose it:
Sprintlio has a special focus on action items, enabling an easy view of open action items, completion rate, and assigned action items, all directly in Jira or Slack.
Retrospective tool #13: TeamMood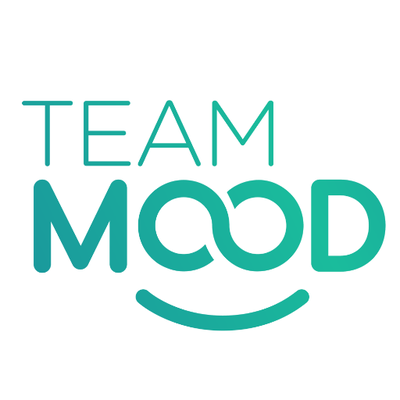 What TeamMood's retrospective board looks like: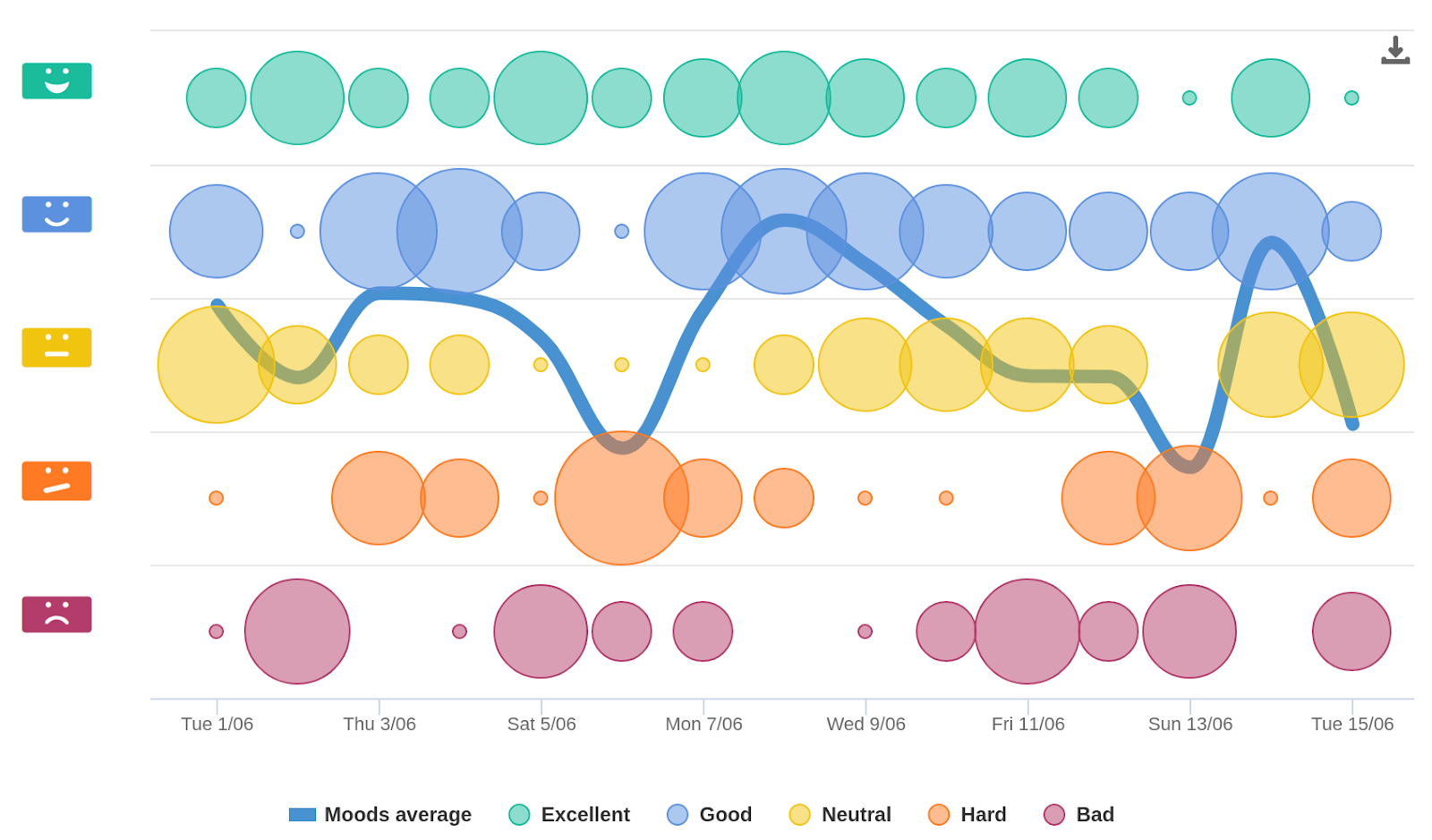 Concerned about your scrum team's morale and wellness? TeamMood is here to help!
This easy-to-use tool is less about retrospectives and more about maintaining a strong team synergy with proactive wellness management. It's a great tool to get insights into your individual team member's daily moods. It takes less than two minutes to respond, and it's anonymous so that members are likely to answer truthfully and you can really assess how they are feeling.
You can then use your team mood analytics as a basis to open up helpful discussions in your retrospectives.
Website: www.teammood.com
Pricing:
After a 30-day free trial, TeamMood's Business plan costs $2 per user per month. It includes daily notifications, anonymous feedback, analytics, integrations, and all the core features except for a few additional ones such as custom branding and SSO that are available on the custom-made Enterprise plan.
Why choose it:
TeamMood is an ideal tool to gauge your team's engagement levels and emotions, allowing you to take better care of their needs and get anonymous (honest) feedback for continuous improvement.
Retrospective tool #14: RetroTool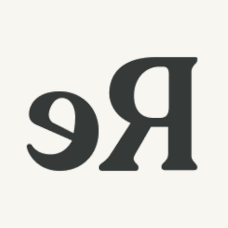 What RetroTool's retrospective board looks like: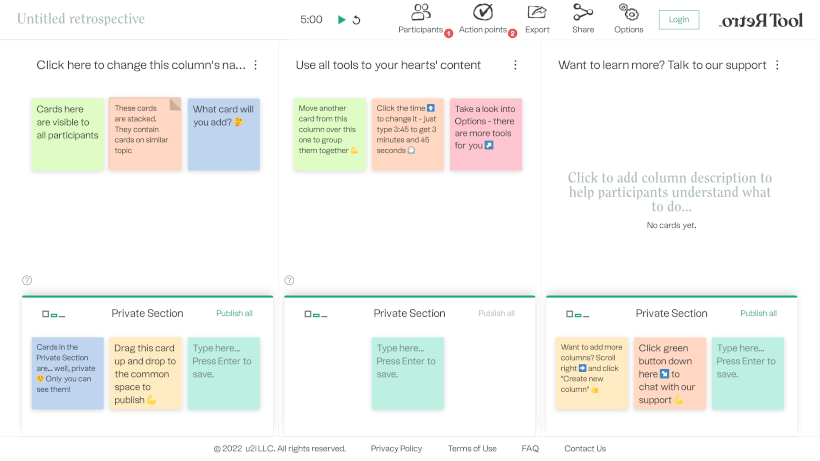 If you're looking for a quick and easy online retro tool to get started right away, then RetroTool is your answer.
Without even having to sign up, you can quickly create a retro board (using templates or from scratch) and share the link with your team members. Features include card sorting and voting, Private Sections to get people's thoughts, the ability to group similar post-its, and a timer to keep the session on track.
All in all, RetroTool is a simple and straightforward tool to brainstorm with your remote team.
Website: retrotool.io
Pricing:
RetroTool offers a free Anonymous plan wherein you can get started without signing up. Alternatively, you can go for the Registered plan (free) to store your three months of retrospectives in a dashboard and get customization options. The Premium plan costs $20 per month and lets you create private, invite-only retrospectives with premium support.
Why choose it:
If you have the need for speed — you can get started and create unlimited retrospectives without having to sign up, and creating and sharing retros is a matter of a few quick clicks.
Retrospective tool #15: Team O'clock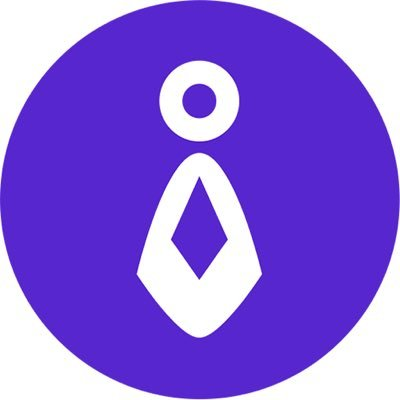 What Team O'clock's retrospective board looks like: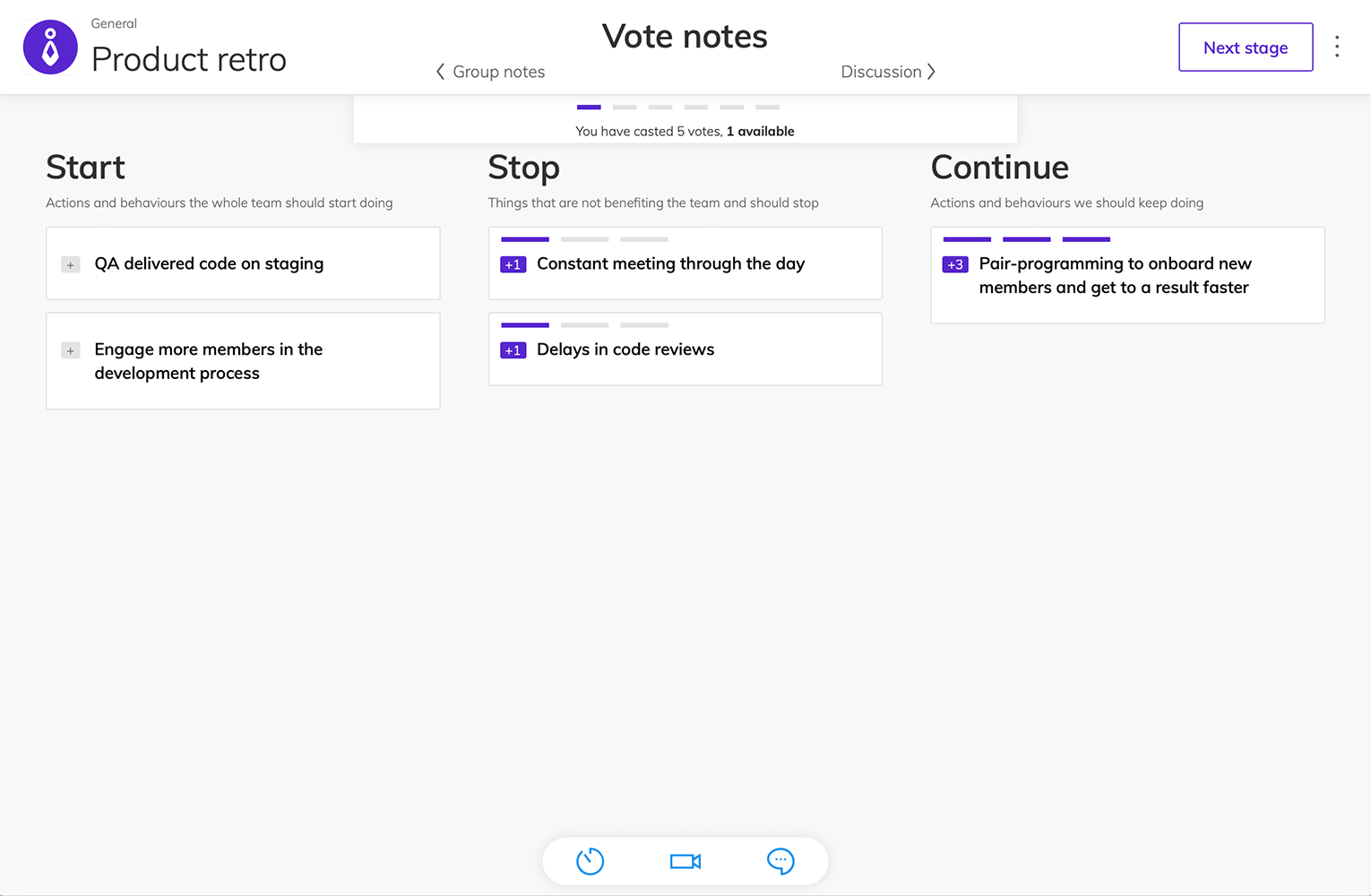 Combine your sprint retrospectives with daily standups using Team O'clock. This online retro tool provides you with a digital board to create notes, discuss and prioritize action items, and plan your project with virtual poker cards.
Team O'clock helps remove bias by letting you collect private feedback, implement various retrospective techniques, and improve your team's accountability and focus with easy daily check-ins.
It integrates with Slack, Microsoft Teams, Jira, and Asana, so you can run your retros and get tasks in your existing tech stack.
Website: www.teamoclock.com
Pricing:
There's a free plan for up to five team members and limited features. The Starter plan costs $29 per month for up to 20 members. The Standard plan (with a one-month free trial) costs $69 per month for up to 50 members and includes team metrics with meeting customizations. There's also an Enterprise plan (contact for quote) for even bigger teams.
Why choose it:
With Team O'clock, you can unite your standup meetings and sprint retrospectives in a single, easy-to-use tool that plays well with your usual communication and project management tools.
Retrospective tool #16: IdeaBoardz

What IdeaBoardz's retrospective board looks like: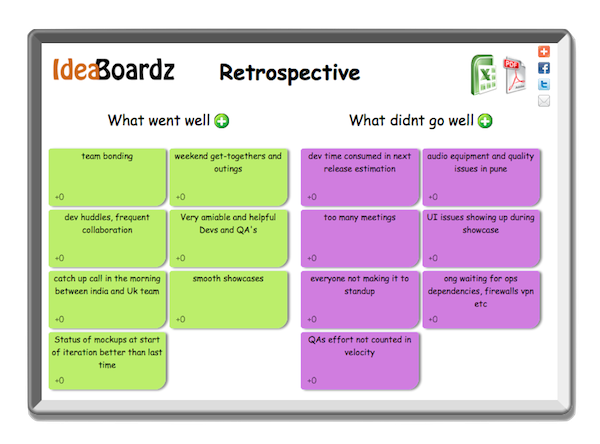 As the name suggests, IdeaBoardz is an online brainstorming tool for geographically distributed teams.
With it, you can easily gather your scrum teams' inputs, reflect and retrospect over a digital board with color-coded cards. The Scrum Master can collect inputs over a period of days and then hold a retro meeting to discuss them.
Overall, it's a bare-bones team collaboration tool that neatly serves the purpose it's built for.
Website: ideaboardz.com
Pricing:
No paid plans, IdeaBoardz is a free tool.
Why choose it:
No feature overload and a simple layout. Plus, it's free!
Retrospective tool #17: Retro Rabbit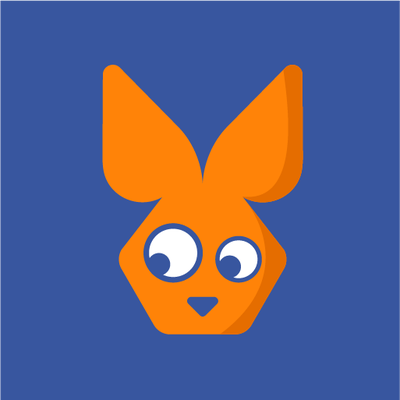 What Retro Rabbit's retrospective board looks like: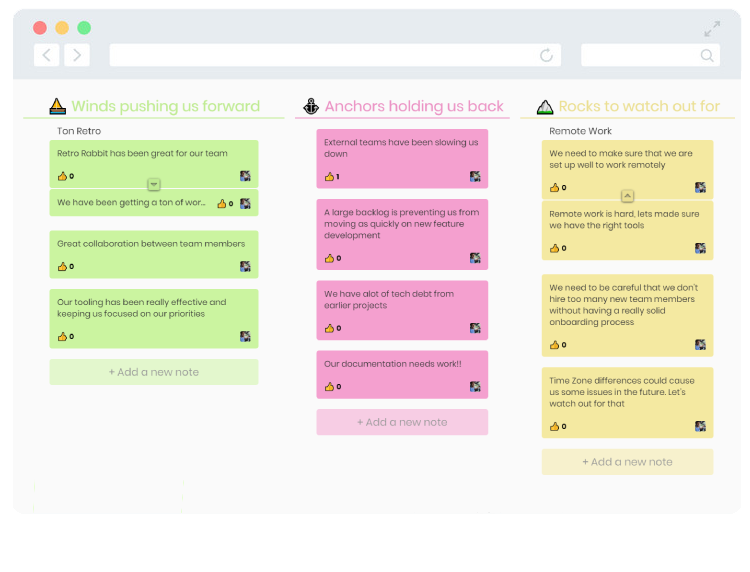 If your teams live and breathe inside Slack and you wish to integrate your retrospectives within Slack channels, then hop into Retro Rabbit.
Without disrupting your usual Slack workflow, you can easily add retro notes (by typing "/retro") during the sprint, join a real-time synced retro board for that channel, create and assign action items, and export a PDF or XLSX summary. Features like voting, grouping, and discussion timers can help make your retro more productive.
Run seamless retros right inside your Slack workspace. No need to create and remember new accounts or passwords — that's what Retro Rabbit is about.
Website: retrorabbit.io
Pricing:
You pay for channels you use Retro Rabbit in. The Pro plan costs $20 per team per month and includes all the features with unlimited users and retros. The Enterprise plan is custom built and includes a dedicated account manager, more integrations, and team training. A 14-day free trial is available.
Why choose it:
Your team can add notes ahead of time (during the sprint) so the retro meeting becomes more focused and actionable. Also, it supports all custom Slackmojis, making for fun retros.
Retrospective tool #18: SprintBoards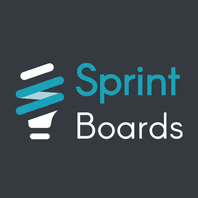 What Sprint Boards' retrospective board looks like: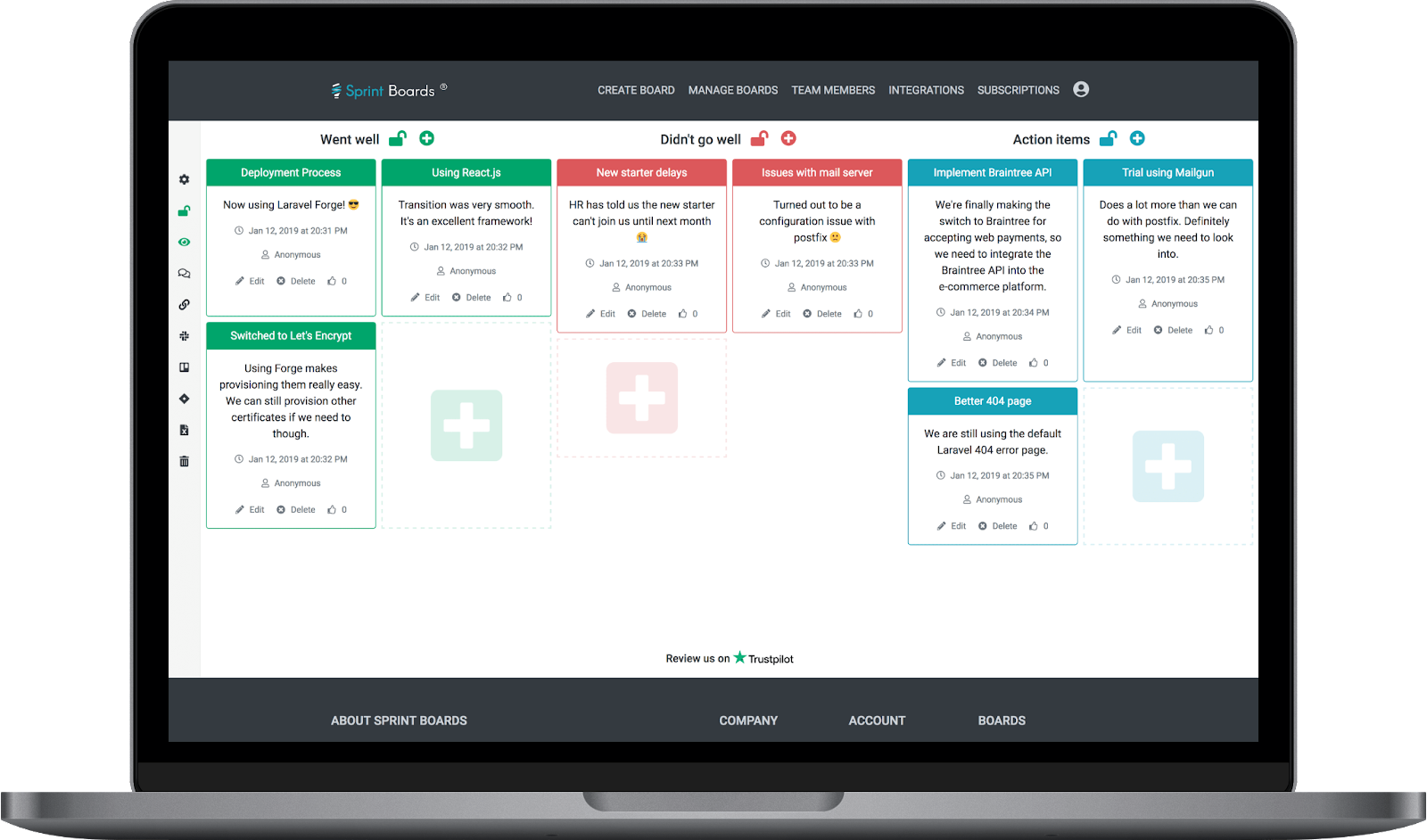 An online retro tool designed for agile developers, Sprint Boards lets you create a variety of retro board types such as Mad-Sad-Glad, 4Ls, Starfish, What Went Well, etc.
With this tool, you get some nifty features like:
Keyboard shortcuts for common tasks like adding, editing, and saving cards.
Duplicates merging with simple drag-and-drop.
Lock and delete boards after a retro.
View and manage board history and action items.
Easy Slack sharing along with Trello, Jira, and Excel export.
Put simply, Sprint Boards is a great choice for agile teams that move fast and focus on execution.
Website: sprintboards.io
Pricing:
Create unlimited mobile-friendly boards at $7.99 per month per team or $79.99 per year per team. A 7-day free trial is available.
Why choose it:
The card masking feature helps the Scrum Master prevent team members from influencing each other by masking each others' cards until the end of the retro.
Retrospective tool #19: Retrospect.team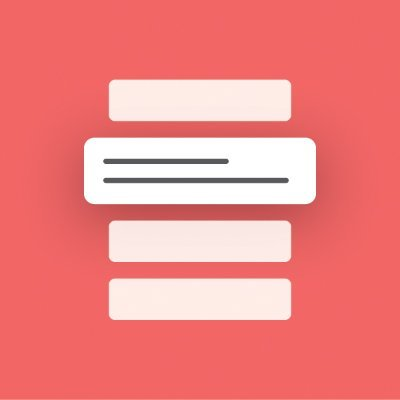 What Retrospect.team's retrospective board looks like: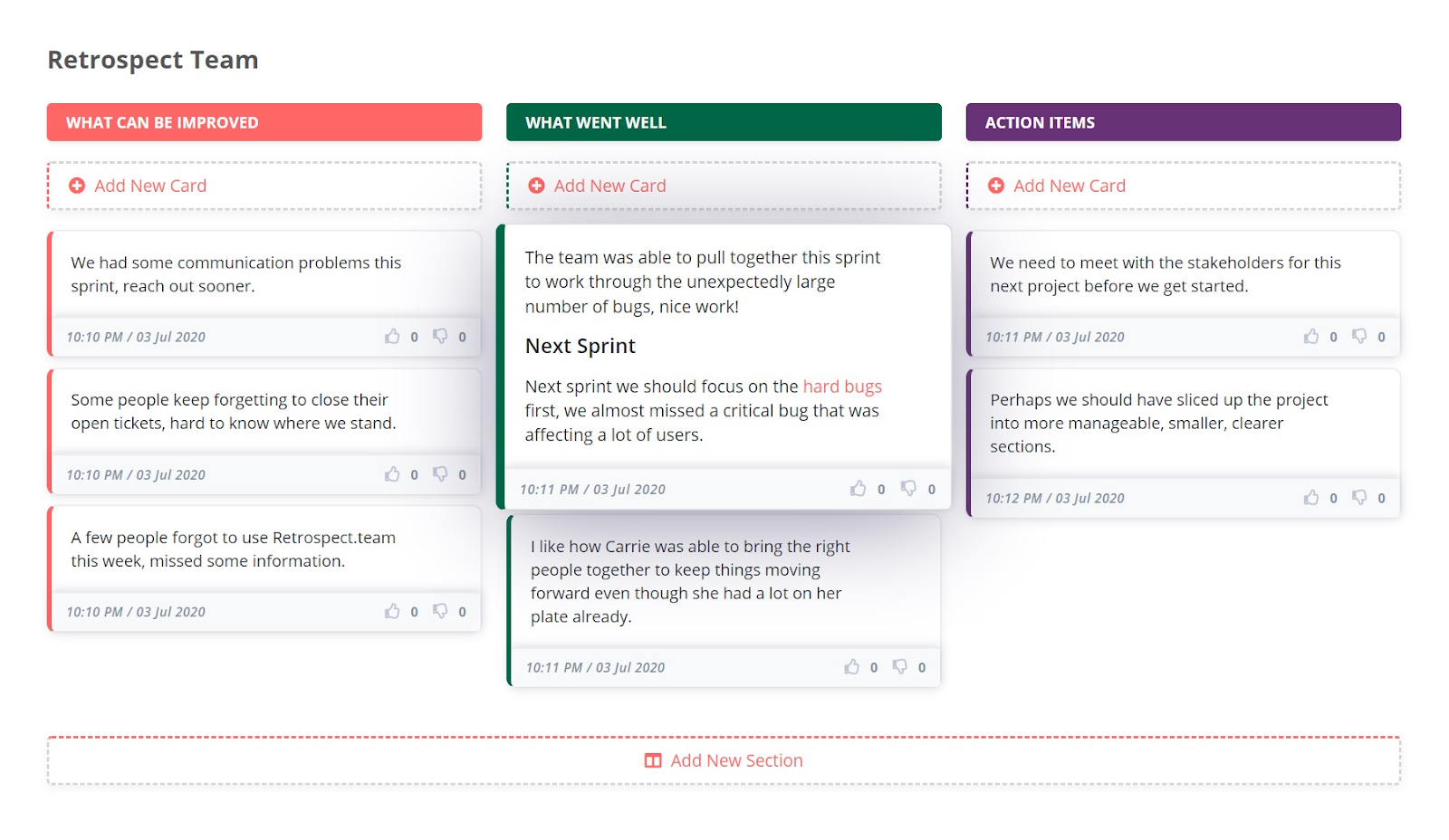 Trusted by companies like Nike and Penske, Retrospect.team is an online retrospective and task planner tool built for simplicity and speed.
Pick from six templates to kickstart your scrum team's collaboration in an intuitive, card-based format. Easily create a retrospective space for each project, and the details are automatically saved from sprint to sprint so you can review your progress against your goals.
Website: retrospect.team
Pricing:
You can start with a basic free version of the tool with limited features and ads. If it fits your needs, you can upgrade to the Unlimited Pro plan, which costs $16 per year with all features and no ads. There's also a Lifetime plan with a one-time cost of $384.
Why choose it:
Whether it's a sprint retro or an idea brainstorming session, Retrospect.team is one of the simplest online tools you can use to hit the ground running.
Retrospective tool #20: GroupMap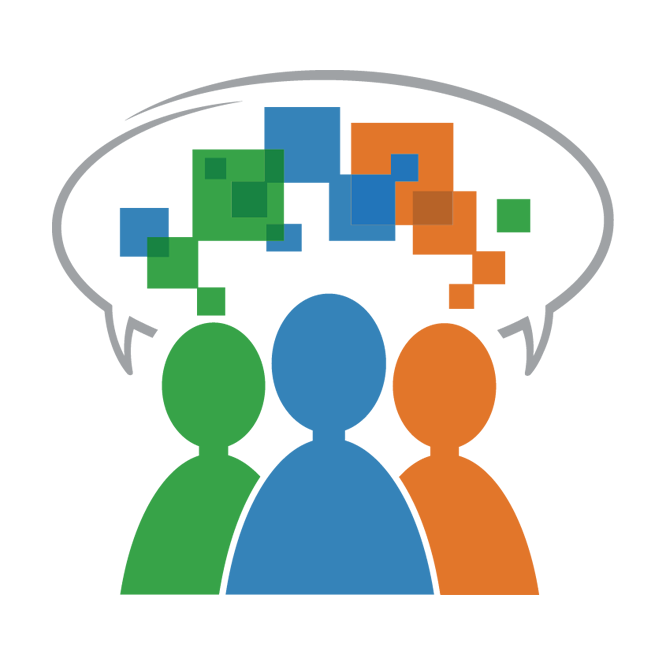 What GroupMap's retrospective board looks like:
The last one on the list is GroupMap — an online group brainstorming and decision-making tool that also works well for hosting agile retrospectives.
With easy-to-use templates, GroupMap lets you customize your workflow, group common themes, prioritize the key action areas, assign tasks with time frames to members, and share the outcomes (as PDF report, CSV, or XLS) of the session with a clear action plan.
Website: www.groupmap.com
Pricing:
The Basic plan for up to 10 participants costs $20 per month and includes basic process design, facilitator controls, reporting, and email support. The Professional plan costs $60 per month for up to 50 participants and includes advanced process design, facilitator controls, reporting, and priority support. You can try the Professional plan with a 14-day free trial.
Why choose it:
GroupMap works well on all devices — desktops, tablets, and smartphones — so your team can collaborate in real-time on any browser, anywhere. It is enterprise-ready with SSO via SAML, and you can choose between hosting your GroupMap account and data in the US or the EU. You can also have your corporate branding and leverage concierge support and training.
Rev up your retrospective today!
Building a successful product is a marathon, not a sprint.
But, this marathon is better run as short bursts of energetic sprints that you can review and revise — for which, having the right pair of trainers is key.
A good sprint retrospective tool such as EasyRetro makes it effortless to run fun, collaborative, and productive retrospective sessions with your remote teams. You get a beautiful, intuitive, and fully customizable retrospective board that also integrates with Slack.
So, what are you waiting for? See first-hand why EasyRetro is the perfect retrospective tool for your team with a 7-day free trial!