9 challenges your work-from-home product team may face (and how EasyRetro can help!)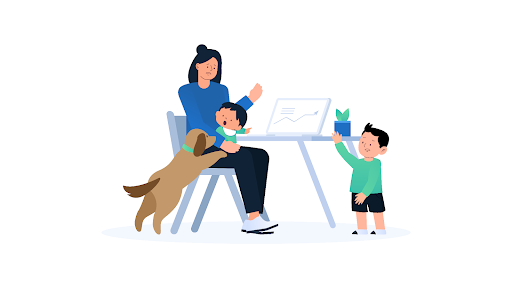 The forced period of remote working has opened our eyes to an entirely new way of working. We learned that remote teams could be just as, if not more productive than workers in a traditional office setting. This has led to a work-from-home revolution seeing workers staying home as businesses move to hybrid or fully remote work schedules.
Despite the wide adoption and improvements to work-from-home technology, remote work still has a range of challenges that you and your team will need to overcome. That's why in today's post, we're going to look at the challenges work-from-home product teams still face and how EasyRetro can help.
9 challenges of working from home your product team might run into:
Communication
One of the main concerns people have about remote work is that communication becomes much more difficult.
The pandemic left us with the words "I think you're muted" and "Sorry, you cut out there" ringing in our heads. The idea of that becoming the new normal might be a little too much for some.
Remote communication will never be as efficient as in-person communication, but that doesn't mean it has to be difficult.
EasyRetro boards allow users to leave comments and vote on cards, allowing your team to talk about a task while directly linking to that task. No more confusion about what the main point of discussion is!
EasyRetro also offers a range of integrations such as Slack and Confluence, meaning you can share what you're working on and have in-depth conversations with ease.
And everything you do on EasyRetro is saved to the cloud so you can create and edit boards in real-time, without the need for low-quality screen sharing!
Building meaningful team relationships
Many team leaders worry about building rapport with remote workers. And yes, it can be tough to make real connections with a physical barrier between team leaders and their team, but it's not impossible.
Comradery and meaningful interaction are some of the most commonly mentioned benefits to working in an office, but you can still have both with distributed teams.
Try taking a little time away from business every so often. Monthly hang-out sessions give your team a chance to unwind and engage with each other without having to worry about work.
You could even play games remotely, like EasyRetro's work-from-home bingo, to turn the usual frustrations into fun talking points that boost morale and build meaningful team relationships.
Keeping track of tasks and projects remotely
Project managers who are new to remote working tend to worry about making sure their team is on track.
Keeping track of tasks and projects can be tough while working remotely, but it has become far more manageable over the past couple of years. Project managers just need to choose one of the many product management software platforms that are available to them.
EasyRetro offers simple but powerful project tracking with a range of project management tools. Our free burndown chat generator gives you an easy way to show your team's progress throughout a sprint. Meanwhile, the team can use one of our boards to see which tasks are to do, which are in progress, and which are completed.
Virtual standups are another great way of keeping track of the team's progress.
Virtual standups can be performed two different ways, depending on how your remote team operates.
Teams working on the same schedule can simply use video calling at the same time each day to give updates, reinforce priorities, and answer any questions the group may have.
Teams working asynchronously can still benefit from standups, though they'll be staggered throughout the day. In this case, it makes sense to use a Slack channel to keep updates, handoffs, and questions in one place rather than making multiple scheduled video calls.
Decision Making
Making decisions as a team is a tough ask, even with everyone in the same room!
Decision-making is a real test of your team's ability to communicate, collaborate, and compromise. Add in the stress of doing that remotely, and you have a recipe for disaster.
The literal physical barrier can make it difficult for teams to have meaningful discussions that help guide the decision-making process, so it can be helpful to rely on solid facts.
With a tool like EasyRetro's Moving Motivators, your team can prioritize customer motivations when discussing feature requests. And our brainstorming tool will help them narrow down which tasks should take priority.
A decline in productivity, motivation, or engagement
A key concern from higher-ups is how remote working affects productivity. Many assume that the physical distance will translate into lower productivity because team members can't tap into the office's collective energy.
One of the lessons we learned during the pandemic and forced periods of remote working is that, if implemented correctly, remote and hybrid working models can boost productivity. Team members can manage their schedule in a way that suits them, allowing them to work during greater times of productivity, and walk away before reaching the point of burnout.
It's easy to forget to give your team members a thumbs up for good work when working remotely, resulting in a lack of motivation. Try EasyRetro's Easy Kudos to combat this, which allows team leaders to give their colleagues a little appreciation with just one click. It may seem like a small, trivial act, but it can make all the difference for your team members who may be struggling to stay motivated.
Keeping everyone's schedules aligned
Asynchronous working is extremely tough to manage, especially when working to deadlines. Remote workers may choose to operate on a slightly different schedule to other team members, while some may not even be in the same time zone.
Rather than forcing everyone onto the same schedule, project managers should look to use broader time frames when planning deadlines. Allowing your team to submit work within 24 hours of a deadline means they can work to a schedule that works for them while the project stays on a stable time frame.
Tracking project progress through the EasyRetro sprint burndown chart or a Kanban board showing what is to do, what is in progress, and what is completed means a project manager can spend less time worrying about scheduling and more time managing the project.
A lack of knowledge sharing
Working in the office means you have a wealth of knowledge surrounding you. Team members can often find the answer to any problems they're having by turning to the desk next to them. Obviously, this isn't possible while working remotely, so teams need to find an alternative way to share their knowledge.
Of course, any steps you have already taken to improve communication will help solve this issue. EasyRetro's Slack integration makes it easy for team members to help with a particular task. Anyone struggling can post a note on the task card. Other team members can start up a dialogue instantly and share their knowledge, meaning no one is left behind.
A lack of insight into each team members working process
The office brings a range of different working styles that feed off each other. This allows workers to share tricks and tips to help working strategies.
Similar to the above point regarding shared knowledge, improving your methods of communication can help teams understand how their counterparts work. Meanwhile, project managers can keep tabs on individual team members' workflow with EasyRetro's range of project tracking tools.
Hiring the right people
The hiring process is already tricky, but now that we're doing it all remotely, it can be almost impossible to hire the right person for the job.
It's difficult to build the same kind of rapport with interviewees via digital means. While video calling offers a way of talking face-to-face with your candidates, it doesn't give you the kind of picture you would get if you met them in person.
Collaborative hiring could be key to securing the right person for the job.
Collaborative hiring brings the entire team into the hiring process. Try having your team review each candidate as a group. The team will assess, evaluate, and get to know potential hires to ensure they hire someone who fits the team's needs.
Once the interviewing process is over, the team can use EasyRetro's guide to dot voting to democratically choose the best person for the job.
Struggling to manage your agile remote team? EasyRetro has the answers
At EasyRetro, we believe that managing your agile team should be easy, whether you're in the office or at home. If you're struggling to manage your remote product team, the EasyRetro blog has all the answers you could need.
The best part? It's all free!
So, what are you waiting for? Elevate your leadership skills with the EasyRetro blog!