Top 10 scrum tools to improve your team work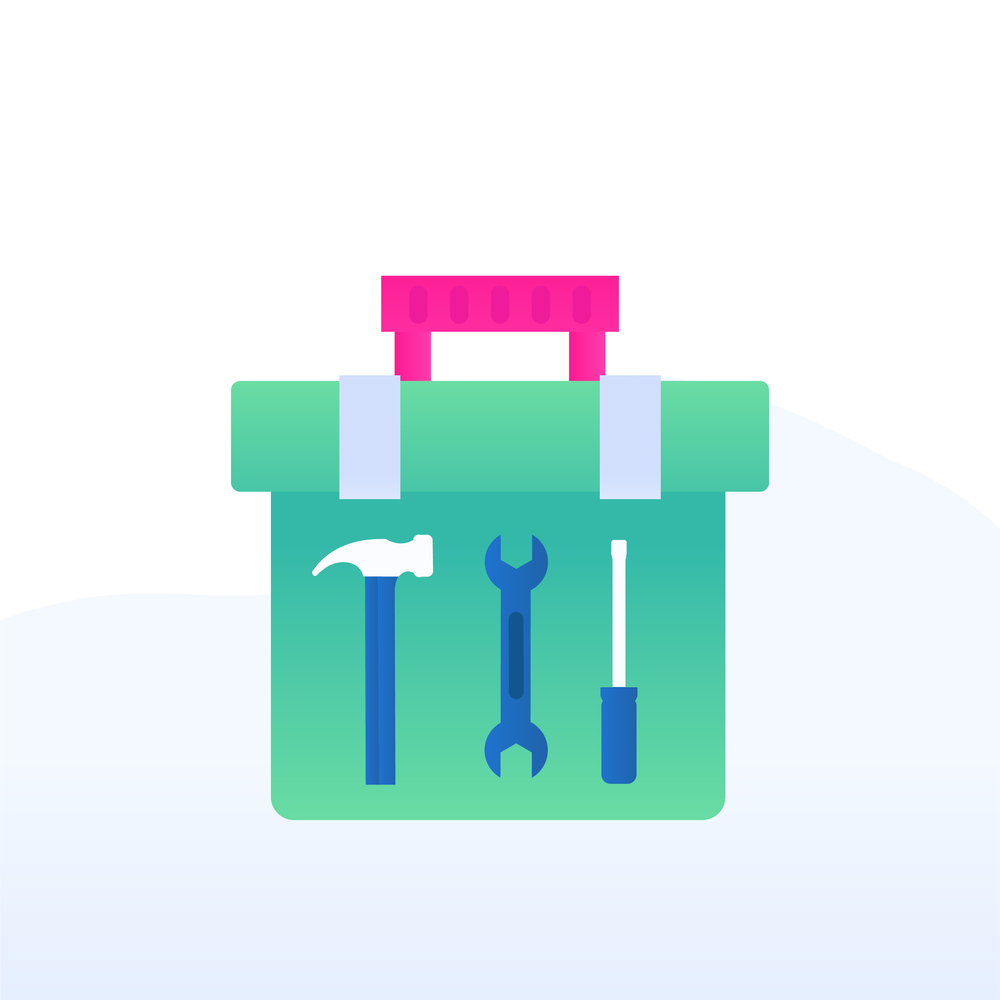 Scrum is one of the most popular methodologies in product development — and with good reason.
Table of contents
Scrum is an agile approach; shaped by a simple set of rules and tools that efficiently, and incrementally, improve how your team works together. One of the greatest advantages of Scrum is its ability to react to sudden change — it's a highly adaptable framework that's perfect for product development briefs. Because we've all been on a project that's changed direction at the drop of a hat!
While the Scrum framework is mainly used for software development, companies are quickly realizing the benefits of implementing Scrum within other departments too. And to satisfy these many applications, many new agile Scrum tools have hit the market.
Plenty of project management tools are quick to brag about support for Scrum frameworks, but not all offer the Scrum tools your team really needs. That's why we've compiled the best Scrum tools we have found, comparing each in a comprehensive breakdown below…
Best Scrum tools:

Price model: Free, with paid upgrades available
Starting price: $ 70 per month
Originally designed as a bug and issue tracker, Jira has transformed itself into one of the best work management tools around.
Jira features a highly flexible layout to fit any kind of agile workflow and a number of report styles to help push data-driven retrospective. This allows product managers an impartial view on what's working and what needs to be improved.
Jira's Scrum board offers some great tools to help make planning Sprints a breeze, with real-time adjustments and drag and drop functionality for quick re-prioritization.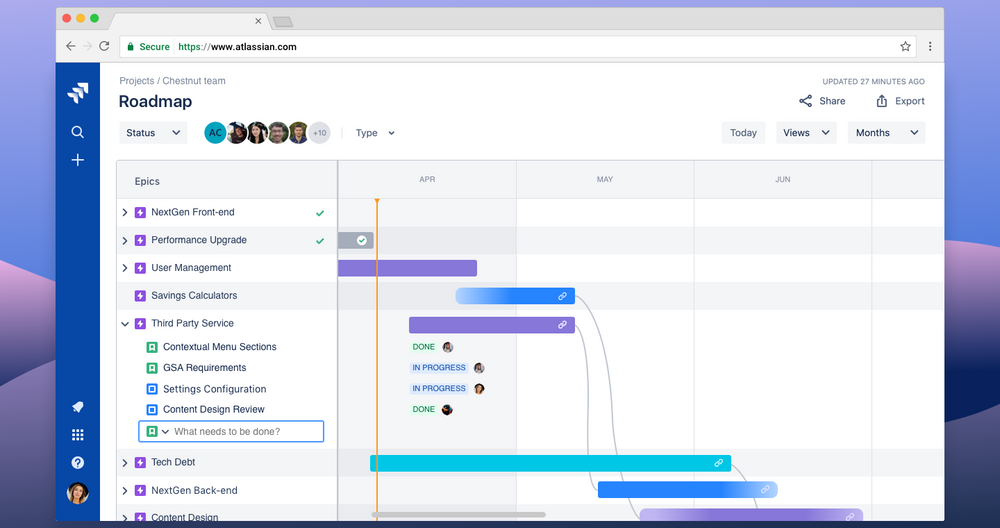 Our favorite feature in Jira
Jira includes a number of agile reports specifically for Scrum teams. Burndown and velocity charts offer an insight into how teams are progressing and highlight any issues that can affect chances of achieving the sprint target.
No wonder then that Jira's tagline is: "The #1 software development tool used by agile teams".

Price model: 14-day free trial
Starting price: $ 24 per month
Monday.com is a simple tool, offering a level of accessibility not often seen with other Scrum tools.
It's packed with excellent features to help with time management and automations to fix your focus on what's important. Despite its simplistic design, Monday.com doesn't pull any punches, boasting a highly flexible platform, excellent data collection, easy project tracking and simple file sharing.
Visualizing and creating roadmaps is simple and can be done quickly on the dashboard. And sharing between team members is just a quick click away.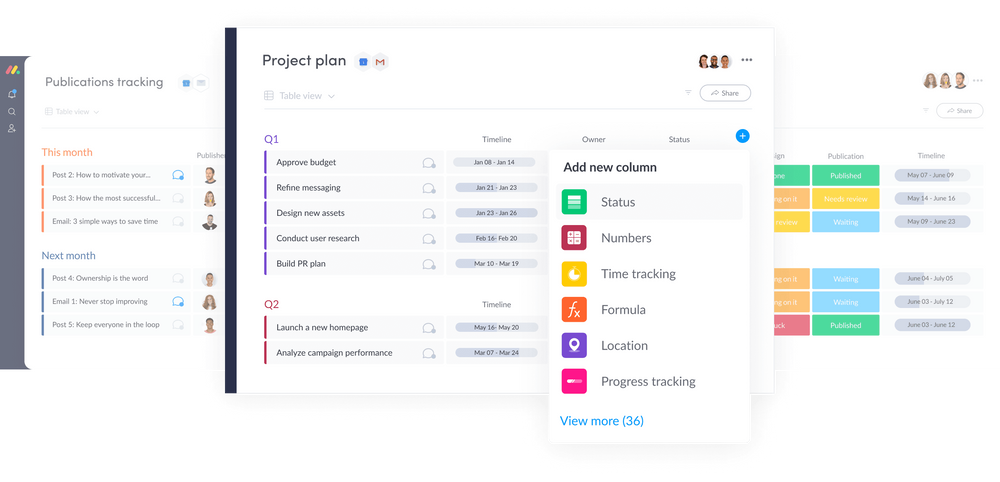 Our favorite feature in Monday.com
Monday.com puts an emphasis on its user experience, with a clean interface and 24/7 customer support via email or phone. Monday.com is also one of the better platforms when it comes to integrations, offering a huge range of connectivity with Slack, Google Drive, GitHub and many more.
We believe Monday.com when they say: "One platform, better teamwork".

Price model: Free, with paid upgrades available
Starting price: $ 5 per user, per month
ClickUp bills itself as "the future of work" and has an impressive group of companies on its user-list, including Nike, Uber and Google. The platform incorporates everything you could ever need for product development, from easy spreadsheet editing to CRM, and includes a selection of templates to help speed up the planning process.
ClickUp utilizes "Spaces", which are completely customizable for use in any situation. Sprints are made simple with easy building and automation, while tracking progress is even easier with breakouts, subtasks and easy sorting options. ClickUp also has a number of ways to visualize Sprint tracking with burnups, burndowns and velocity charts, allowing Scrum Masters to monitor the team's pace at a glance.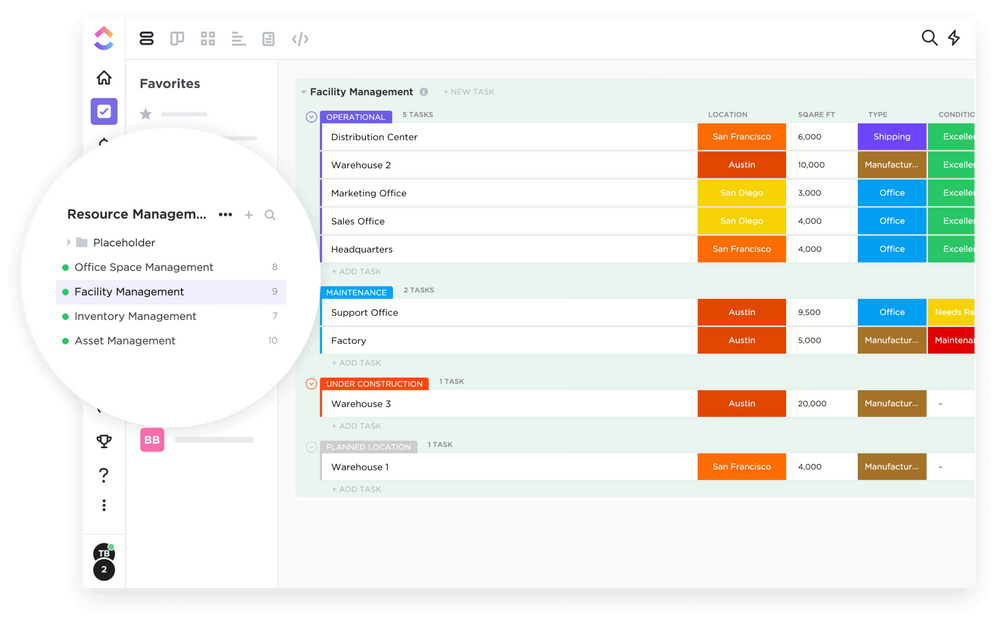 Our favorite feature in ClickUp
ClickUp offers a completely free plan, perfect for individuals or SME who are just starting to utilize Scrum tools. It has a brilliant import tool that can bring over data and workflows from Trello, Airtable, Jira and so many more.
ClickUp's slogan is: "One app to replace them all".

Price model: 30-day free trial
Starting price: $ 15 per user, per month
ProjectManager is one of the most comprehensive product management tools we've seen and has been used by NASA, Bank of America, Volvo and many other household names. Its cloud-based software offers quick access across a range of devices without downloading and installing software, allowing for simple collaboration across the whole team.
While ProjectManager isn't 100% geared towards Scrum workflows, it has plenty of features that will prove useful to any Scrum team. The Kanban boards with real-time dashboards are particularly useful, enabling easy workflow visualization and automated notifications for time-management.
Our favorite feature in ProjectManager
ProjectManager's reporting functionality is one of the best on the market, offering real-time dashboards, one-click report creation and simple sharing. The report builder allows a Scrum Master to filter reports and show specific insights or data, to help plan Sprints better going forward.
And with the tagline, "Project management software built for ambitious teams" maybe this one's for you?

Price model: Free trial available
Starting price: Pricing on request
Targetprocess has been built to support a number of agile frameworks and is the perfect choice for a company with a more varied workload looking to condense their software down to one application.
As you might expect, Targetprocess supports all the standard Scrum practices — from Sprint planning to burndown charts. The Sprint Cadence feature allows Scrum Masters to set up Sprints in advance and compare one team's progress to another. Backlog management is made simple with color-coded highlights and complies Epics, Features, Bugs and User Stories into one organized list.
Reports and retrospectives are simple to navigate, with the ability to set WIP limits which automatically flags a process that is at or above the limit.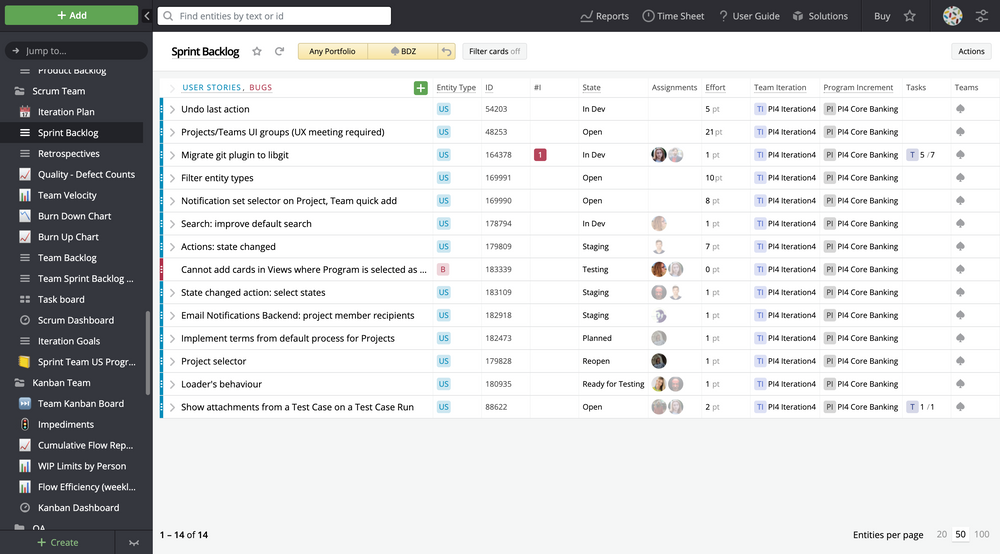 Our favorite feature in Targetprocess
Targetprocess puts emphasis on remote working, with plenty of simple solutions to issues that would normally crop up while out of the office (something we cover in more detail here). One great example is the built in Planning Poker feature which allows a distanced team to put the fun back into the planning process.
Targetprocess call themselves "the revolution of workflow boards".

Price model: Free, with paid upgrades available
Starting price: $ 2.50 per user, per month
Geekbot is slightly different to other agile Scrum tools on this list. Rather than helping your team be more organized, it offers a simpler way of hosting Stand Ups, with an emphasis on efficiency and time management.
Geekbot integrates with Slack and Microsoft Teams to facilitate meetings and daily reports without pulling team members away from the tasks that are most important. It works by direct messaging an individual and asks them what they did yesterday, what the plan is for today and if anything is hindering progression.
Not only does Geekbot offer fully automated evaluation of team progress across borders and time zones, its clever AI can track team happiness and productivity levels and give Scrum Masters the raw data on how the team can improve.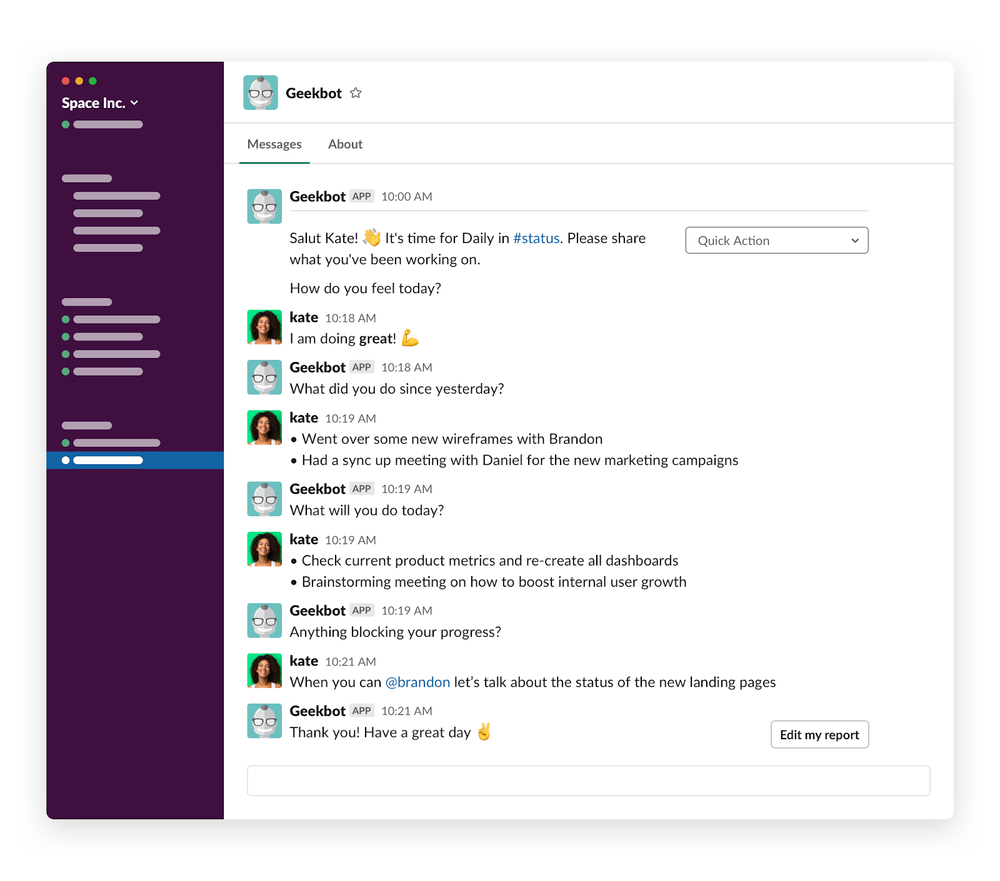 Our favorite feature in Geekbot
Geekbot offers something that no other application on this list has, fully automated reports and retrospectives that can easily show the areas where things are going well and what needs to be improved. It's teamwork with no time wasted!
Quite simply, Geekbot's slogan is: "The Slack Standup Bot - Asynchronous Standup Meetings".
Price model: Free, with paid upgrades available
Starting price: $ 9.80 per user, per month
Wrike is a simple to use application that boasts 20,000+ happy customers including Airbnb, Siemens, Dell and many more. It's a comprehensive team-focused tool that's built to suit any team size with a range of price plans to fit any budget.
Wrike hosts all the key features you would expect from product management software, with task lists, real-time collaboration, one-click Gantt charts and a number of pre-built Agile templates. Users can quickly switch between timesheets, data boards, Kanban and traditional workload views. Wrike is truly an application that can do it all.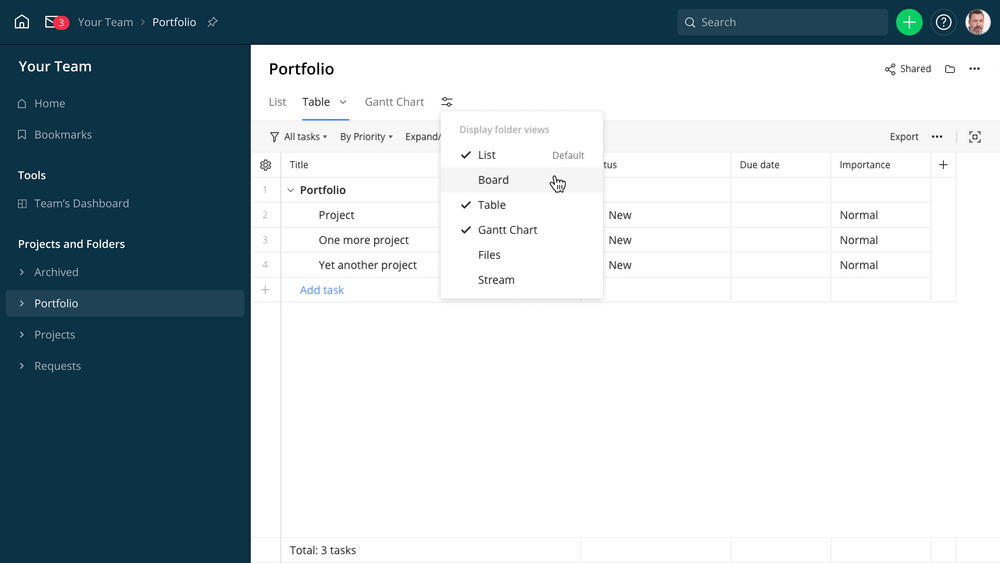 Our favorite feature in Wrike
Some product management software (especially Scrum and agile tools) likes to throw you in at the deep end with little in the way of support when it comes to using the software. Wrike is different. They have a huge help center featuring interactive training, video demonstrations and an active community to share tips and tricks with.
In their own words, Wrike lives to "Power the modern, Agile enterprise".

Price model: 30-day free trial
Starting price: $ 14 per month
At its core, Smartsheet is Excel for users who need more out of their spreadsheets. Dive in a little deeper and you can find a range of features that help improve Agile teamwork, like Gantt charts and automation support.
While Smartsheet may not be the easiest tool for Scrum, it's a great way to create web forms for your business. It can even double as a CRM, with automations that forward data straight to a customer service agent for quick action. Of course, this isn't a feature exclusive to Smartsheet, but this application is one of the easier platforms to navigate when it comes to automating customer requests.
If you're a small team struggling to manage it all, Smartsheet could really help.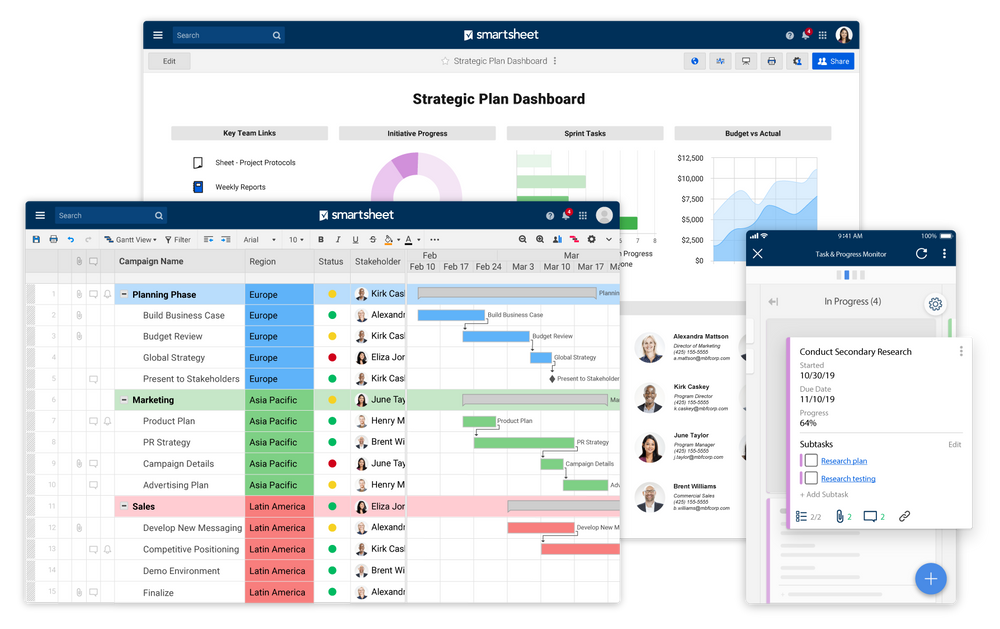 Our favorite feature in Smartsheet
Smartsheet has a fantastic range of templates available that allow users to dive right in to their task. While most platforms offer basic templates, Smartsheet has included some very specific frameworks and they update the template library on a regular basis too. This can save a Scrum Master countless hours of set-up, allowing them to focus their energies elsewhere.
Smartsheet's tagline is: "More than a platform for work, Smartsheet is a platform for change".

Price model: Free, with paid upgrades available
Starting price: $ 2.99 per user, per month
nTask is an extremely accessible tool with plenty of features designed specifically for Agile and Scrum frameworks. The dashboard offers up four different views — list, grid, calendar and Kanban — each providing unique ways of task organization and team collaboration.
nTask is very versatile, handling something as simple as personal tasks to complex product development. The software's ability to scale is second to none and is perfect for project managers who are looking to increase their workload in a short amount of time, without the hassle of finding new platforms.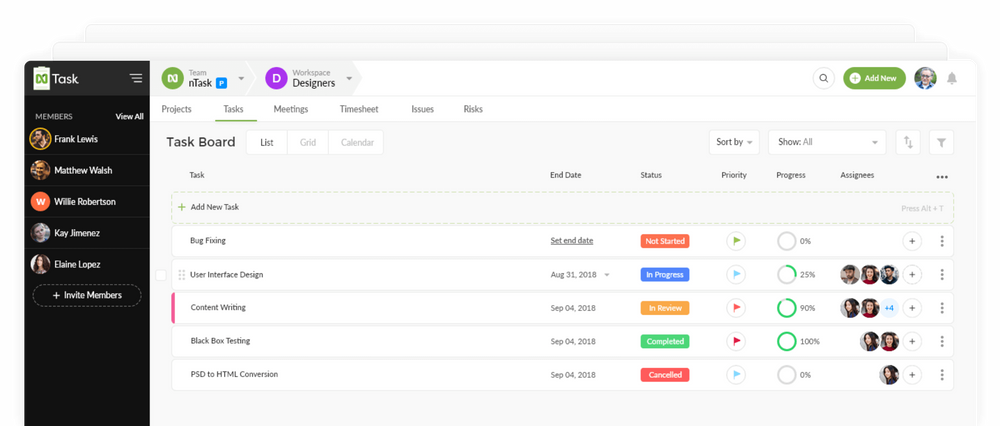 Our favorite feature in nTask
nTask has some of the most advanced time management features out of all the software on this list. The platform offers manual time entry, automatic web timers and the mobile app, allowing Scrum Masters to account for every second and accurately pinpoint more time-consuming tasks that could require extra support.
No surprises that nTask's brand promise is: "Do it right with nTask".
Price model: Free, with paid upgrades available
Starting price: $ 25 per month
Full features trial: 7 days
Sprint retrospectives are an essential part in the Scrum framework. But not all product management software offers simple retrospective creation. EasyRetro is the result of countless hours of using sub-par retrospective tools and the realization that retrospectives could be a fun, interesting way of improving your workflow.
Our platform features fully customizable boards, with over 100 pre-defined templates to choose from as a starting point. Cards are placed on the board where collaborators are able to vote or leave feedback, offering a clean, clear view of how team members are managing and what could be improved.
EasyRetro also offers a huge range of resources to help Scrum Masters get the best out of their retrospectives, including a fun Scrum team name generator and simple guides to help newcomers to this way of working.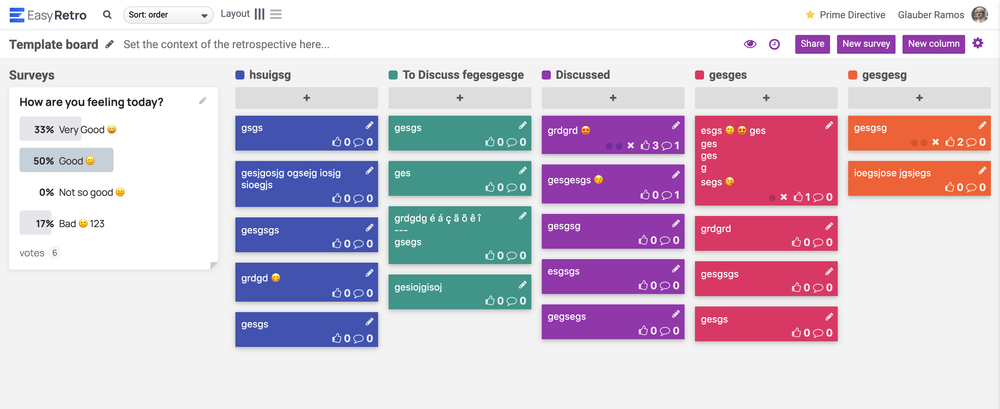 Our favorite feature in EasyRetro
The last thing anyone needs at the end of a Sprint is a boring meeting full of graphs and charts. That's why EasyRetro is so focused on putting the fun back into your work.
The retrospective template list includes a host of cool and unique themes. There's "Lean Coffee" — which pairs lean thinking with the informal atmosphere of a coffee shop — to Harry Potter, where your team can use spells and artifacts to brainstorm and improve.
Take your pick of the best scrum tools for your team.
At EasyRetro, we help to "Improve your team with fun sprint retrospectives".
Our fun, simple, and intuitive tool will revolutionize your teams collaboration process.
Why not give us a try, for free, today?