Collaborating with your team can be difficult, especially when you're trying to manage the creative process. Sometimes it's hard to stay on task and meet deadlines for projects that need more than one person's input. EasyRetro Online Sticky Notes is a free service that makes collaboration easy by letting you share ideas, brainstorming sessions, create action items and organize your thoughts online.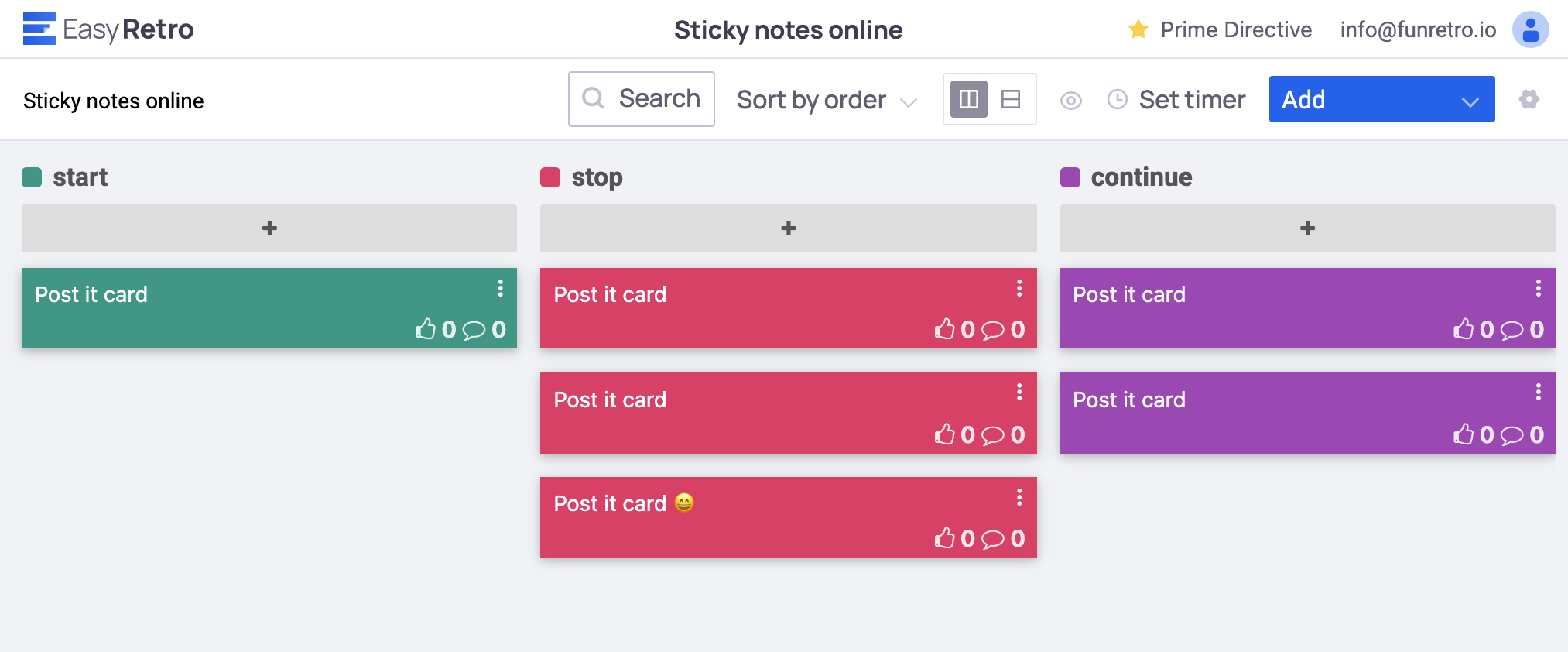 How to use digital post-it notes to capture your ideas?
Brainstorm with your team members by adding sticky notes to the board.
Write ideas or create action items that will help you meet your deadlines and complete your project.
Collaborate with other team members online using EasyRetro Sticky Notes so you can stay on task and keep all of your team's input in one place!
Merge similar ideas and vote on ideas to understand what is a priority for your team.
What features do we have in our Sticky Notes Board?
All your past retros, organized and filtered in an easy-to-use dashboard.

Create private or public boards using more than 100 different pre-defined templates

Invite unlimited amounts of people to join your created teams and collaborate

Fully customizable boards

Add comments to your cards and vote on them.

Sort your cards by dates, votes etc.

Simple drag and drop functionality with your cards

Export your boards in multiple formats
Enrich your workflow

Notify your team about new retrospectives in your Slack channel

Export your retrospective boards to a Confluence page

Export your retrospective cards and action items directly as an issue on Jira

Run your retrospectives right from your workspace in Microsoft Teams

Export your retrospective cards and action items directly into a Trello board
Why online post-it notes are important for your team?
Build momentum, collaboration, and creativity with your team members to drive results
Collaborate in real-time on one document
Integrate the post-it notes tool seamlessly into your team workflow
How to use online sticky notes for decision making?
Put a post-it note on your computer screen
Write down the idea and move it to the board
Let others read and comment on what you wrote
Vote on the most important ideas
Brainstorm with your team and decide what to work on next
We all know how frustrating it can be when we have an idea but don't know where to put it for safekeeping, or what our next steps should be. In order to stay productive and organized, try using EasyRetro Sticky Notes! This digital version of a post-it board.
Ready to try it yourself?
The best way to learn about sticky notes board is to try it yourself first-hand. And that's exactly what you can do with EasyRetro.
Get started right now with our easy-to-use board. Once you're done, you'll be able to export it as a JPEG, PDF, or a spreadsheet format.
Check out some other tools from EasyRetro
We believe that the right tools can lead your team to success, so we're always bringing you some fun and easy-to-use tools!
Take a look at our Retrospective Academy , you will find useful tools and content! You should also check EasyRetro Blog where you will get valuable content with tips, steps, and guides to help you with your retrospectives!