While retrospectives are a crucial part of closing a project down, it's equally as important to touch base as a team before you take on a new challenge.
While retrospectives are a crucial part of closing a project down, it's equally as important to touch base as a team before you take on a new challenge.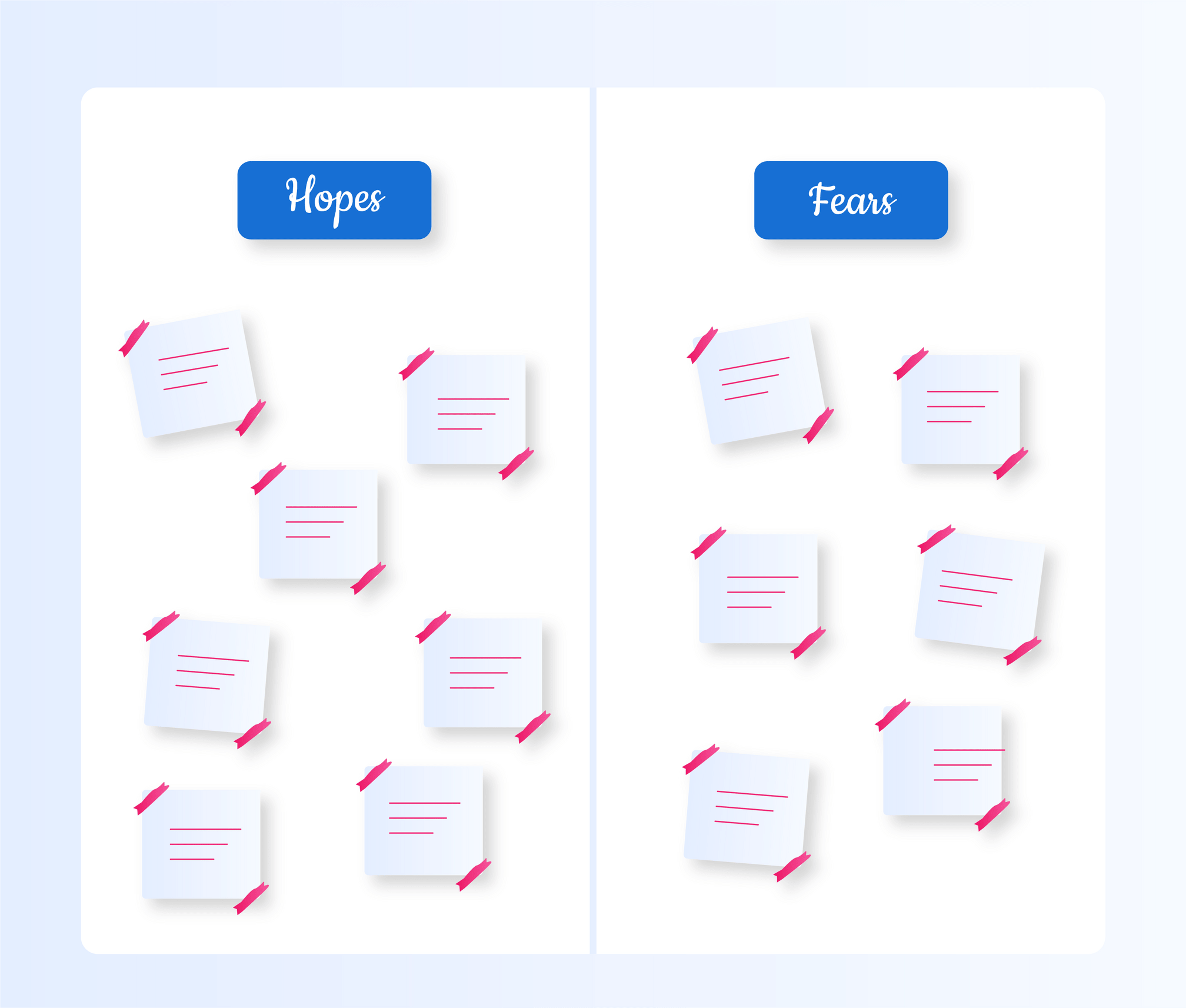 Hopes and Fears is typically completed as a group, helping to create empathy and shared excitement for new projects, workshops, or other undertakings. During the activity, those participating take a moment to voice their hopes and fears, and afterward, the group discusses the points that have been raised with one another.
Hopes: What is each person looking forward to? What do they want to accomplish? This could be something professional — like impressing a new client — or personal — such as learning a new skill.
Fears: While you shouldn't be afraid of your workload, it's perfectly natural to have hesitations. 'Fears' are situations team members want to avoid, issues they've had in the past, and what (if anything) they're cautious about moving forward.
As the old saying goes: "Better the devil you know…". And the Hopes and Fears exercise takes the tension and uncertainty out of a project, by putting everything out in the open right from the start.
It also gives each stakeholder time to voice and discuss what's most important to them as the project moves forward.
When you see your concerns echoed by other team members, this creates a sense of camaraderie and group spirit — but it also triggers you to mitigate against these risks, as much as you can. At the same time, hearing everyone's ambitions and aspirations can be very motivating indeed.
It's time to see how this exercise looks in action.
Below, we've broken down the activity into a step-by-step process that you and your team can easily follow.
1. Explain the exercise to your group
First, you'll need to make sure that your group understands what you're doing and why. This gets everyone on the same page — knowing what to expect.
The Hopes and Fears exercise works best when everyone is open and honest. Participants should know that their contributions will be shared and then discussed. Wherever possible, avoid anonymity.
Step 2. Have everyone write down their Hopes and Fears
Next, you'll pass out sticky notes or index cards for everyone to write down their Hopes and Fears. Each note should feature just one Hope or Fear — although there's no limit to how many sticky notes each person can have!
It might be a good idea to offer some prompts to your team members, as this can fast-track you to meaningful insights. Here are a few to get you started:
I hope...
I want to avoid...
I'm worried about...
I would love for...
"Last time [this happened] and that was great/not so great…"
"For me, success looks like…"
Step 3. Post everyone's Hopes and Fears on the wall
Before the meeting starts or while everyone is writing down their Hopes and Fears, you can use opaque tape to create a place on the wall for members to stick their Hopes and Fears — like a T-chart.
Make sure the two sections are clearly separated but physically close enough to one another that you can discuss them in tandem. Once everyone is done writing their notes, they should stick them to the wall.
Step 4. Discuss!
With everyone's Hopes and Fears up on the wall, it's time to discuss what your team members have to say.
Get each participant to point out their Hopes and Fears and elaborate on them a bit. Then ask other members to weigh in, before moving onto the next person. In total, this process should take anywhere from half an hour to forty-five minutes.
When discussing each person's Hopes and Fears, make sure to address the cause or root of each point — and the likelihood of each Hope or Fear being realized. Try to come up with solutions to the Fears and see if there are any correlating points between them and the Hopes
This exercise is helpful for any team or group about to begin a new project, quarter, sprint, cycle, or any other collaborative process.
For maximum impact, it's important to involve every team member (if possible). This allows for everyone to feel like their goals and concerns with this project are being accounted for.